Questions to ask in 
caregiver interview 
Before scheduling a virtual or face-to-face caregiver interviews, you can easily and safely pre-screen applicants to ensure they are appropriate for the home care position
It is a good idea to pre-screen applicants before you begin the official interview, ultimately it will save you time and effort in selecting the right candidate. 
Use the tools you have to save time and narrow down your caregiver applicants quickly. Send a response email to applicants asking them to fill out this form and send it back to you. Provide a general overview of the position, list the expectations, schedule requirements, and length of mandate.
Once you have potential pre-screened applicants who are ready to start work, you can move to the next step which is to carry out a full and detailed interview.
Send out interview times via email. In this email be clear how you would like to conduct the interview. You may be comfortable with an in person interview, or prefer to save time and ask applicants to connect virtually. 

Select your FREE meeting platform (Zoom, Skype, Google Hangout) and do a test meeting with someone. With zoom you can do a test with yourself


It is very important that  your computer connection is stable

Check that your audio is working and that you do not get any feedback or echo sounds.

Test the connection before the call, and set up a simple, clean (uncluttered) background and then add some interest (color, plant, nice object etc) for the viewer. A background can say a lot about a person so be mindful of that before your virtual call.

Set up the video chat at least 1 hour before. sometimes passwords get misplaced, and something as simple as a phone code not being found can really throw you off your game and affect your interview.

It is important to know the important questions to ask applicants
For the caregiver interview questions, request that the applicant have two or three professional references, a valid driver's license and or proof of identity, perhaps a passport. If applicable, ask them to have any applicable paperwork that you require on hand (i.e. First aid certificate)
Make sure to ask the same questions to all the caregiver applicants. This will help you to compare the answers when the interviews are complete. After each individual interview is finished, write down your impressions, concerns, questions, or anything the applicant said that stood out in both a negative or positive way.
Write down how you felt during and after the interview, often this will be a good indication. Listen to your intuition!
Individual Template: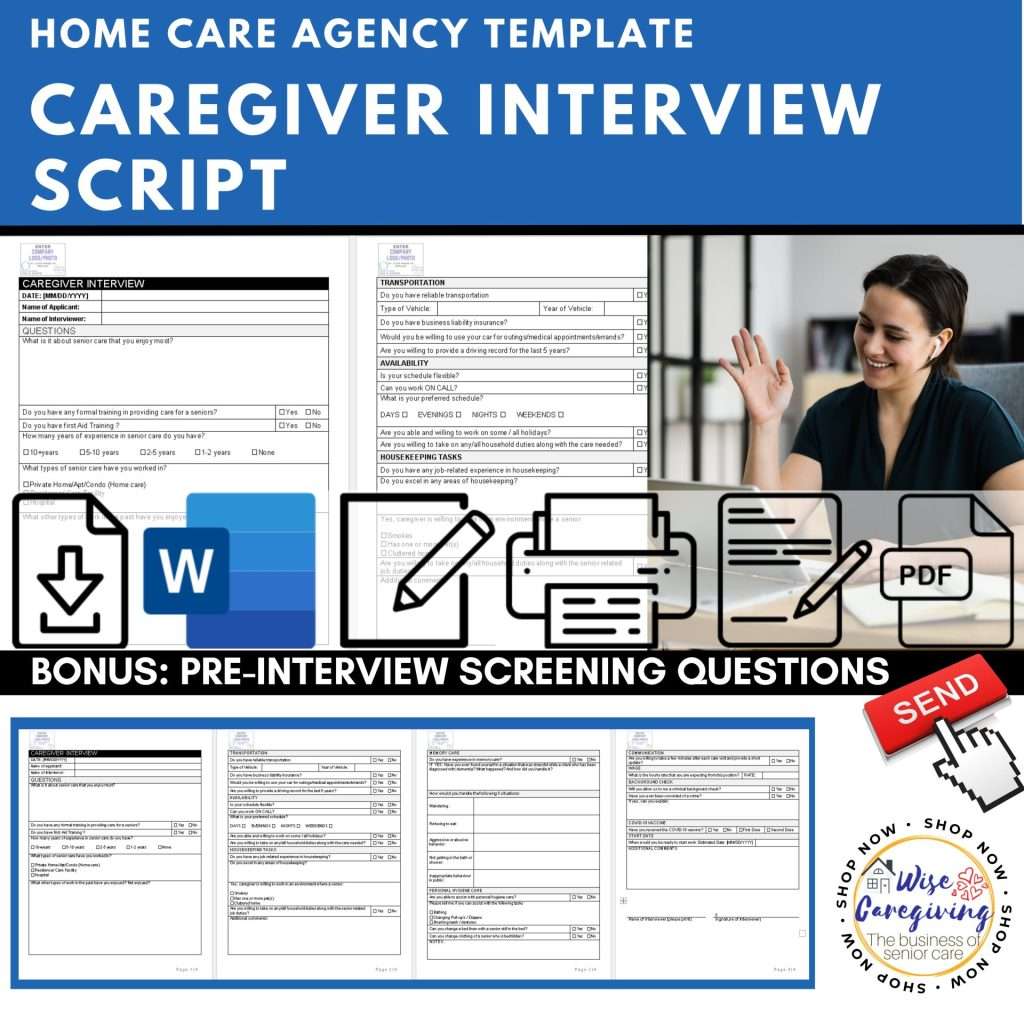 More Value in the 80+ Home Care Template Package:
Do you currently operate a non-medical home care business?