Start an independent caregiver career in 2023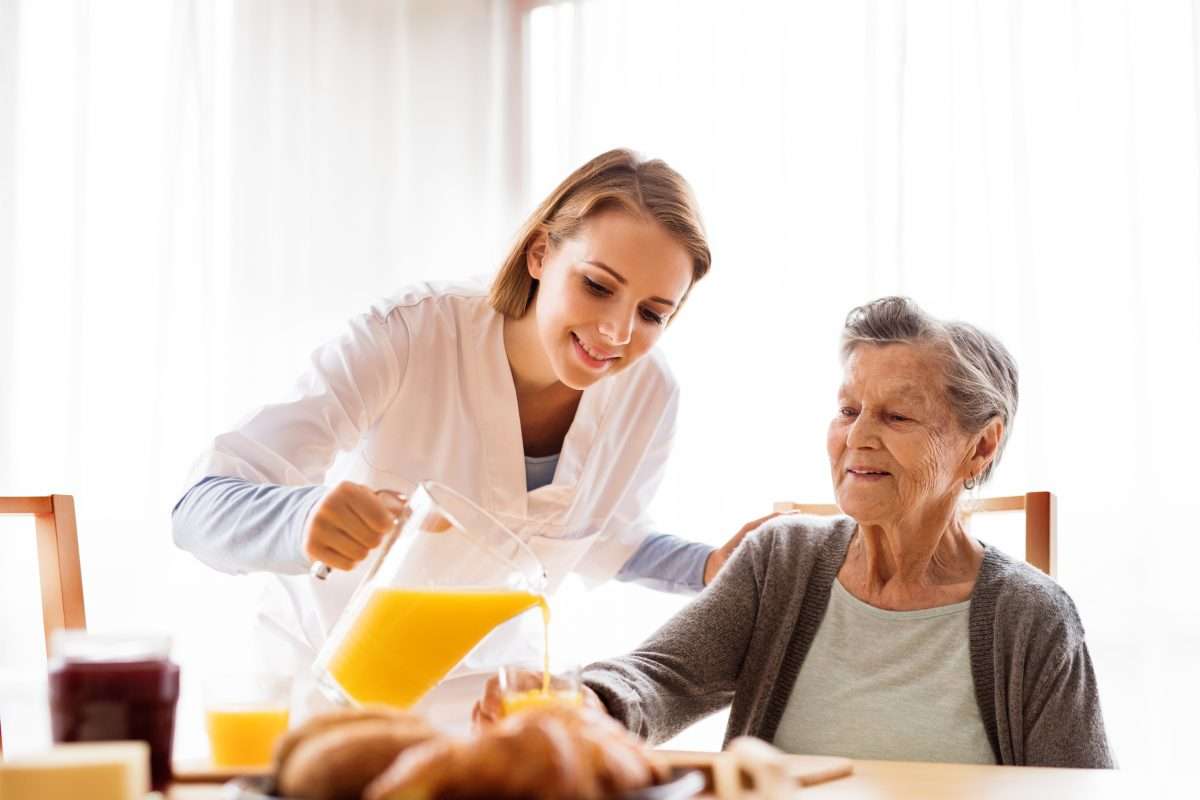 Create your own caregiver career serving our seniors independently or hire caregivers to work for your non-medical Home Care Business
Start a caregiver career and consider going into the area of senior care. Their is an increasingly huge demand for private additional non-medical support for seniors in long term care homes, and in private residences. Staff shortages in care facilities have families are looking for immediate extra assistance.
Around the world we see more government facilities, programs and tax breaks available to seniors in order to facilitate hiring additional private personal care support. Some senior based "communities" offer meal plans, nursing assistance but they are not all created equal, and can often benefit from outside resourcing of homecare agencies or independent private caregivers on file to offer additional senior care support when necessary.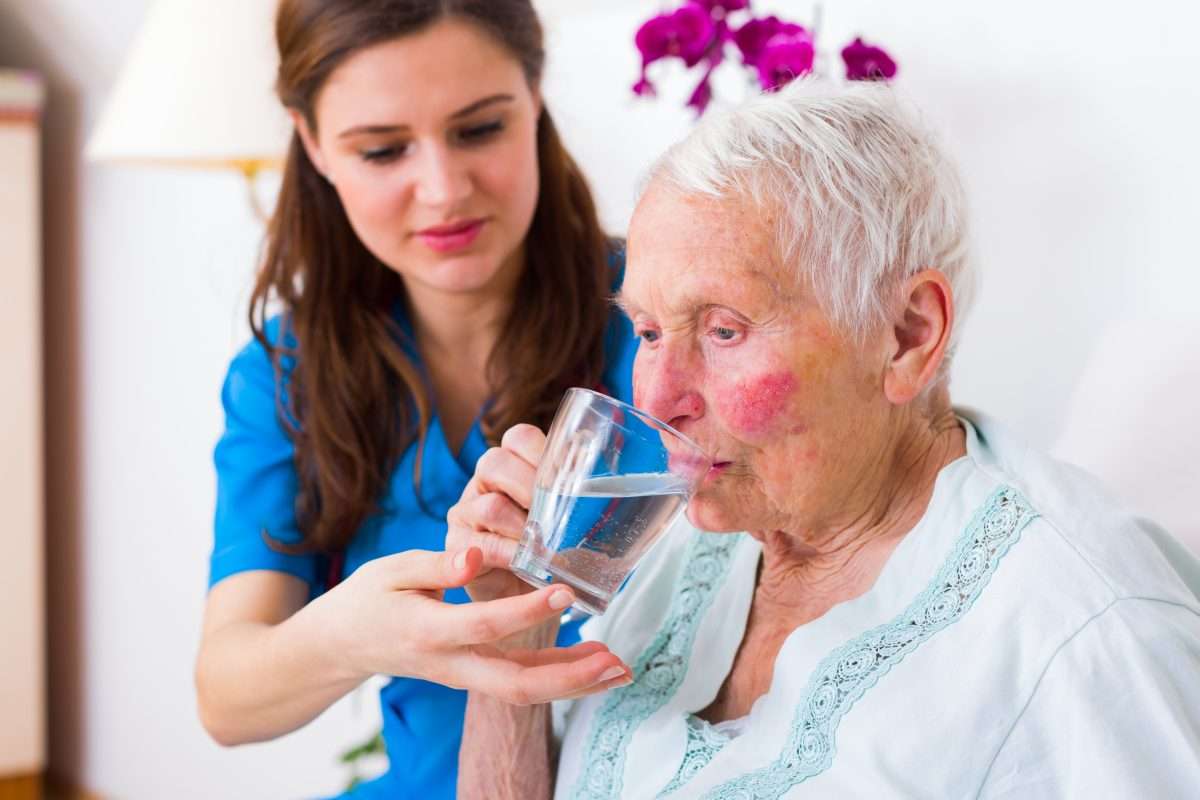 Depending on where you are located a caregiver can also be referred to as:
Personal Care Attendant (PCA)

Private caregiver

Independent caregiver

Carer

Companion

Home Care Provider (HCP) 

Home care aid (HCA)

In Home aid (HA)

Home health aid (HHA)

Home support worker (HSW)


Personal support worker (PSW)

Senior aid
In your location certification may be required to operate a non-medical senior care business so make sure to search the rules and regulations online in your local area as well as any training courses that are required to take in class or online.  Typically a non-medical caregiver career working with seniors wage ranges from 20$/hr to $30/hr depending on the demand in the local area. If you live in a metropolis area you can offer respite services and charge more for shorter visits and travel client to client much faster than if you live outside of the city. If you live outside the city you may consider longer hours but offer convenient services like taking clients to appointments.
Providing non-medical support for seniors is extremely rewarding, interesting, insightful, exciting, informative, and has limitless growth potential. As a freelance caregiver career will enable you to work in homecare, and public/private senior care facilities and if you choose you can also eventually start a home care agency and hire a care team as well.
(call or go online to find out the rules about private senior care certification in your location- Wisecaregiving shop has all the compliance documents to get you started) 
A caregiver's main purpose and function is to:
Promote autonomy

Accompany and assist clients on outings (click for outing ideas)

Apply measures to promote quality comfort, sleep and rest

Provide moral support to senior

Provide assistance to senior with activities of daily living (ADL's)

Ensure prevention of infection and contamination

Ensure well-being and safety of senior
Types of Caregiver Services you can offer
Groceries         
Assistance getting to the grocery store or making an online order. Everyday chores such as grocery shopping can be overwhelming for seniors. A senior will tend to plan the whole day around a a simple trip to the grocery store. A caregiver can assist with this task and take all the stress out of what may seem like a complicated and draining event.
Errands & Accompaniment to:
Grocery store
Retail stores
Pharmacy
Bank
Dry cleaners
Vet 
Appointments 
A caregiver can be your set of eyes and ears at an appointment, likewise he/she can request to record audio, or ask the medical professional to send you a summary of findings to you by email.
Doctors
Therapists
Optometrist
Dentist
Specialists
Hairdresser
Podiatrist
Beauty & Spa
Housekeeping 
Wiping down all touched surfaces with disinfectant
Mop Floors
Vacuum Floors / Sofa / Drapes
Clean and disinfect bathroom
Wipe down kitchen area
Dusting
Laundry
Ironing
Garbage/compost/recycling

Bathing & Grooming 
Shower/Bath
Washing
Shaving
Cut finger & toe nails
Cleaning teeth/dentures
Assistance with toilet/diapers
Brushing hair
Apply make-up
Apply moisturizer
Meal Prep 
Same day preparation or advanced preparation
Serve breakfast, lunch, supper, or snack
Set up table for next meal
Cook and freeze 1-2 portion meals-label-reheat as needed
Purchase pre-made meals that can be frozen

Exercise with Senior 

Walking
Biking
Swimming
Bowling
Golf range
Gardening
Pet Care 
Daily walks
Changing litters
Replenishing food
Water
Grooming
Veterinary appointments
Senior outings – be aware of any wheelchair access needs and call ahead

Dinning
Museums
Library
Movie
Theater
Ballet
Opera
Weddings
Funerals
Gala dinners
Festivals
Religious services
Scenic drive 
You can now create a caregiver career that is more secure than ever before. Cover and protect yourself the same way home care agencies do which is to put everything in writing. It is important to ask the right questions, and to have all the information and agreements between you the caregiver and person in charge of the client's care completed and signed before any mandate begins. Input a time frame on the contracts as to when they can be reviewed as care needs tend to change with time. It is very important to know what the expectations and requirements of the job are.
When you both sign on the dotted line together it eliminates any chance miscommunication between parties. Those of you who are taking a serious look at starting or changing your career to start a private caregiver business please check out this digital guide 'How to start a home care business'. This guide will provide you with the industry overview and tools that you need to get started.
Caregiver career requirements & skills:
Punctual-show up on time

Flexible with scheduling

Operate a communication device

Have a reliable car and valid driver's license to transport client

Record should be clean

Driving record on hand

Speak, read, and write the language required by client

Adaptability to new situations and environments

Resourcefulness 

Creativity

Good listener

Calm under pressure

Good work ethic and drive

Proof of eligibility to work in location

Cooking and housekeeping

Personal hygiene assistance (Bathing, dressing and grooming assistance)

Assist with walking and transfers

Medication reminders

Companionship
Right now it is the absolute best time in history to start your own independent home care business. With the help from Danielle at Wise Caregiving you can now enter non-medical home care with a sense of confidence, knowledge and preparedness. Take advantage of learning from someone who has extensive experience in this industry and will help you avoid costly mistakes and help protect you and your clients with  professional home care business form templates. Customize these editable templates to your very own business and brand them with your company logo. Show your clients, family members, curators, and trustees that you are a business owner that is responsible and accountable.
Start today!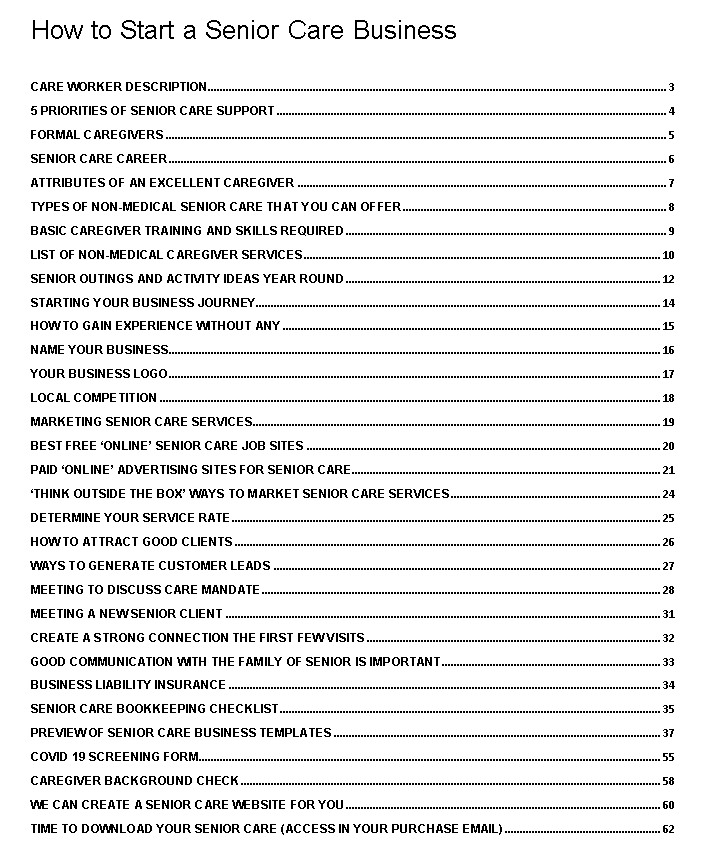 Are you planning to work as an independent caregiver?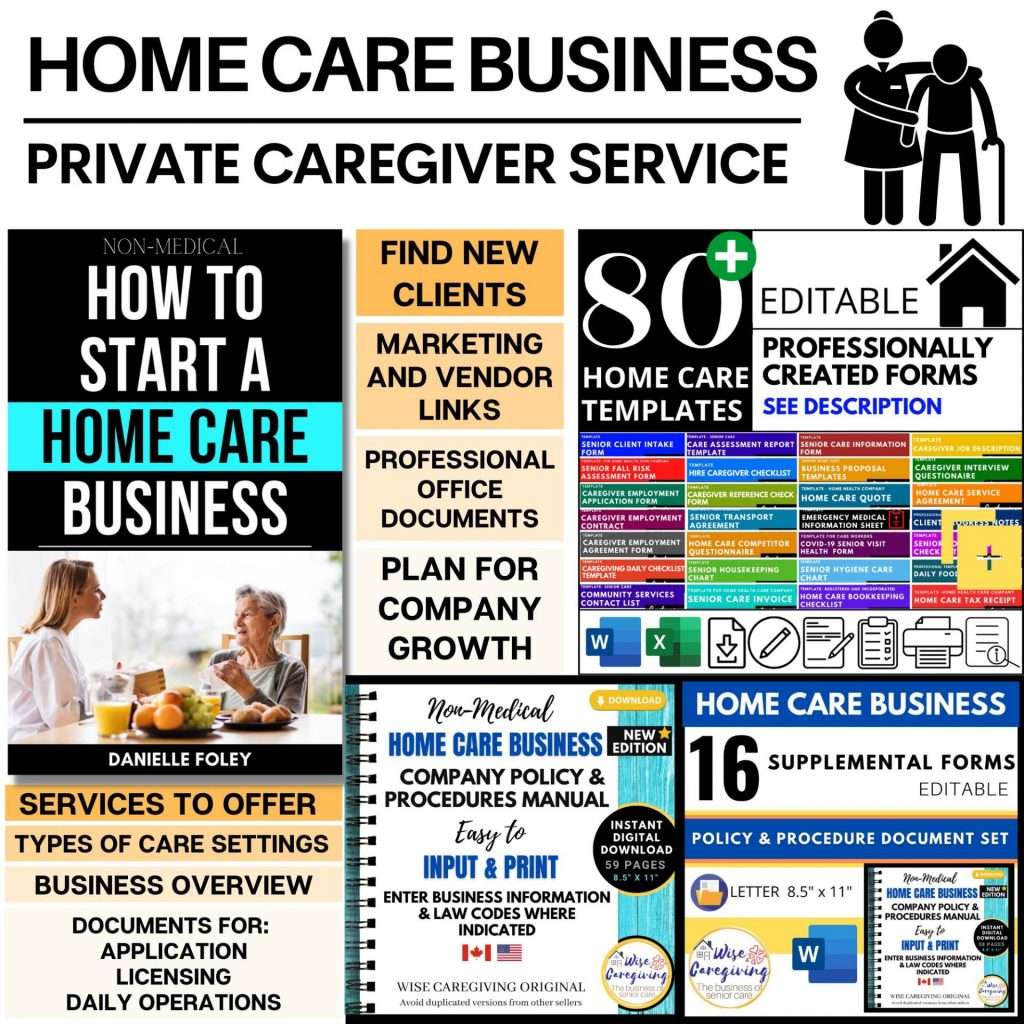 If you would rather move right to planning to open your own agency then this is the bundle for you below
Looking for the basics? Non-Medical Home Care Business Templates
80+Home Care Business Templates (non-medical)



80+ Home Care Business Templates for Daily Operations & Agreements
Bundle 80 WORD & EXCEL DOCUMENTS (EDITABLE)

✔️ Home Care Phone Script
✔️ Home Care Follow up Letter
✔️ Home Care Call Record
✔️ Criminal Background Check
✔️ New Home Care Client Letter
✔️ Independent Contractor Agreement
✔️ Master Client List-Auto Calculates Total Clients
✔️ Client Intake Form-Non-Medical Home Care Business
✔️ Independent Caregiver Service and Fees Information Sheet
✔️ Home Care Agency Service and Fees Information Sheet
✔️ Home Care Rates-All Services Offered (2 Options)
✔️ Caregiver Job Description Form
✔️ Home Care Service Quote
✔️ Home Care Service Agreement (Terms of Service)
✔️ Transportation Agreement-Client Outings (Non-Medical)
✔️ Employee Non-Compete Agreement
✔️ Home Care Service Plan/Plan of Care
✔️ Care Plan Review Template
✔️ Home Care Invoice-*2 FORMATS, TAX RATES, TUTORIAL
✔️ Visitor Sign In & Out Sheet
✔️ Senior Profile Template w/Photo
✔️ Diet Profile Template
✔️ Personal Inventory Checklist (Home/Room in Care Facility)
✔️ Acute Care Assessment Report-One Sheet Quick Overview
✔️ Care Assessment Template (Detailed Care Requirements)
✔️ Home Safety Checklist-Home Overview
✔️ Fall Risk Assessment Form-Detailed Format
✔️ Residence Information Sheet (Quick Reference)
✔️ Proposal Letter-Home Care-For New Clients
✔️ Proposal Letter-Home Care-Organizations and Health Facilities
✔️ Competitor Call Script-Home Care Business
✔️ Caregiver Job Posting-Ad Template
✔️ Hire a Caregiver Checklist-Quick Guide
✔️ Caregiver Application Form Template
✔️ Pre-Interview Caregiver Questionnaire
✔️ Caregiver Interview Questionnaire
✔️ Caregiver Reference Check Questionnaire
✔️ Job Offer Letter-Home Care Employee
✔️ Job Acceptance Letter-Home Care Employee
✔️ Caregiver Employment Agreement-Long format
✔️ Caregiver Employment Contract-Short Format
✔️ Caregiver Profile Sheet (Quick Reference)
✔️ Time Sheet Weekly-Caregiver Employees
✔️ Caregiving Daily Checklist (Journal-Visit Log)
✔️ Housekeeping Chart/Checklist-Home Care
✔️ Personal Care Checklist-Home care
✔️ Toileting Chart (2 Layout Options)
✔️ Client Progress/Recovery Notes Template
✔️ Weekly Food Log-Meal & Hydration Tracker
✔️ Letter of Recommendation-Home Care Employee
✔️ COVID-19 Screening Form for Visitors
✔️ Proof of Income and Employment Letter
✔️ Final Employment Warning Letter-Caregiver
✔️ Termination of Employment Notice-Caregiver
✔️ Incident/Accident Report Form Template
✔️ Emergency Medical Information Template
✔️ Community Services Contact List (Routine Visits)
✔️ Care Directives-End of Life Wishes Form
✔️ Medical File Log-(2 Sizes-Letter + A4)
✔️ Medication List-(2 Sizes-Letter+ A5)
✔️ Weekly Medication Tracker
✔️ Monthly Medication Tracker
✔️ Medical Contacts List
✔️ Vitamin Supplement List
✔️ Service Price Increase Letter-Business Template
✔️ Home Care Tax Statement Template
✔️ Bookkeeping Checklist-Home Care Business
✔️ Activity Sheet Template-Monthly (3 Sizes)
✔️ Menu Template-Weekly (3 Sizes)
✔️ Home Care-Closure of Account
✔️ Personal Information Protection & Electronic Document Act
✔️ Termination of Home Care Services-Master Template
________________

This template is great for:

⭐ Home Care Company/Agency
⭐ Senior Care Business
⭐ Personal Care Service/Attendant (PCA)
⭐ Elder Care Business
⭐ Private/Independent Caregivers
⭐ Private/Public Care Facility
⭐ Volunteer Group
⭐ Non-Profit Organization
________________

How can these senior care templates help?

⭐ Document changes in physical and mental health
⭐ Assistance with client selection
⭐ Guidance with employee selection
⭐ Improve communication within care team
⭐ Accountability among staff
⭐ Quick access to company and client information
⭐ Administrative uniformity
⭐ Client intake assistance and guidance
⭐ Clarification of caregiver tasks
⭐ Set staff job expectations in writing
⭐ Simplify home care accounting
⭐ Cohesive branded look and feel
⭐ Avoid liabilities
________________

Main Features of the product:

✔️ MICROSOFT WORD DOCUMENTS
✔️ EDITABLE
✔️ INSERT COMPANY LOGO/ ANY IMAGE (Instructions Included)
✔️ Easy to change page size
✔️ Simple to change any excel formula
✔️ Fill form digitally/manually
✔️ Ready to convert to fillable forms in Adobe
✔️ Send electronically!
✔️ Printable