Start a Home Services Agency in Kansas
"There is no place like home!"
10 STEPS TO OPEN YOUR AGENCY ON YOUR OWN:
The steps involved in opening up a home services agency in the state of Kansas may vary depending on the specific requirements of the county or city where the agency will be located. However, here are some general steps that may be involved:
Develop a business plan: This should include a description of the services to be provided, target market, financial projections, and marketing strategies.
CHECK OUT THIS READY TO USE BUSINESS PLAN TEMPLATE:
WHERE TO SET UP THE BUSINESS (SECRETARY OF STATE):
Choose a legal structure: Decide on the legal structure of the agency, such as sole proprietorship, partnership, LLC, or corporation.
Register the business: Register the business with the Kansas Secretary of State and obtain any required licenses and permits.
Obtain liability insurance: Purchase liability insurance to cover potential accidents or incidents that may occur while providing services. Use a BROKER in your LOCAL AREA and let them do the work to find you the best deal.
Recruit and train staff: Hire and train staff to provide the services that will be offered. 

DOCUMENT THE TRAINING PROCESS:
Develop policies and procedures: Develop policies and procedures for the agency, including client intake and assessment, client care plans, emergency procedures, and staff training and supervision.
HOME CARE POLICY AND PROCEDURE DOCUMENT TEMPLATE AVAILABLE IN THE SHOP:
Establish billing and payment procedures: Set up billing and payment procedures for clients and insurance companies.
Obtain necessary accreditation: Depending on the services offered, the agency may need to obtain accreditation from relevant organizations.
Comply with state and federal regulations: Ensure compliance with state and federal regulations, such as HIPAA and OSHA.
POLICY AND PROCEDURE DOCUMENT TEMPLATE WITH STATE INFORMATION SERVICE ALSO AVAILABLE: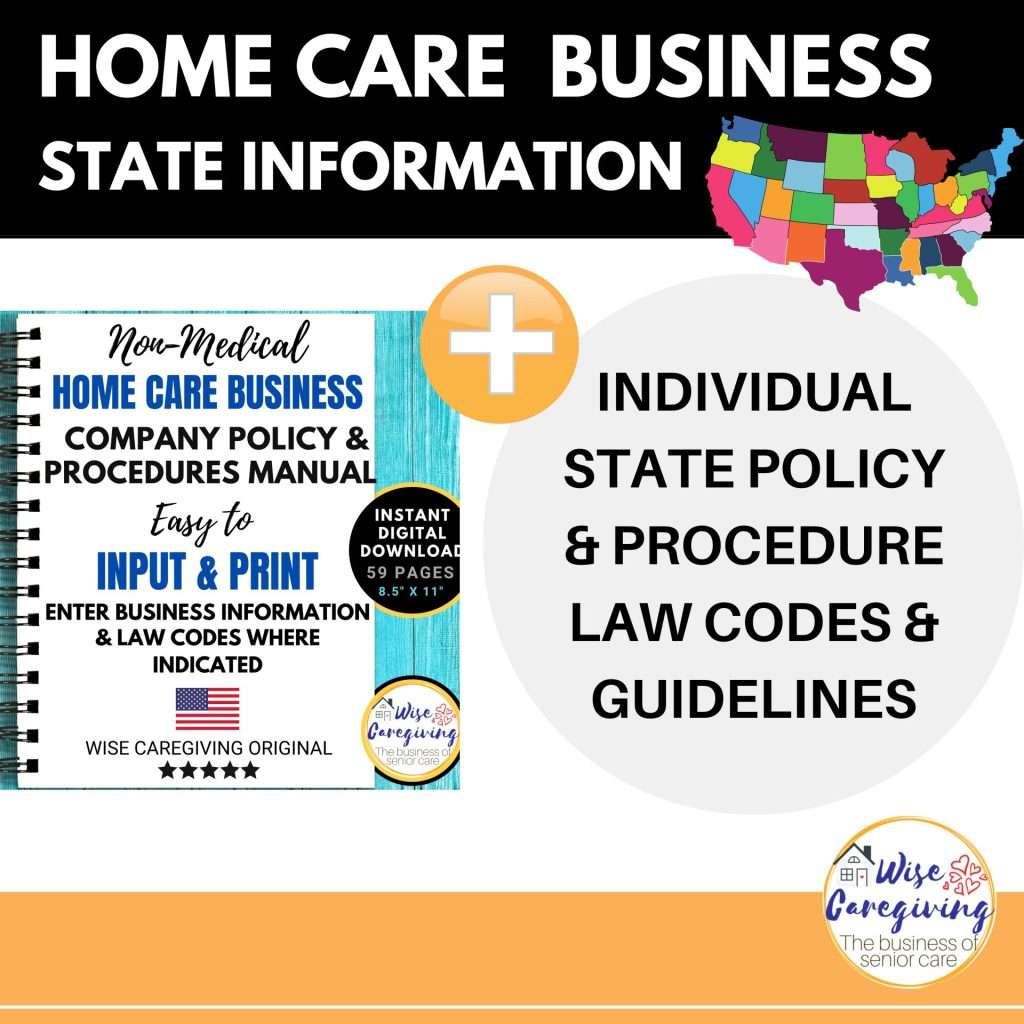 Market the agency: Develop marketing strategies to promote the agency and attract clients.
50 WAYS TO MARKET A NON MEDICAL HOME CARE BUSINESS:
SEE ALL FORMS AND DOCUMENTS TO OPERATE YOUR HOME SERVICES AGENCY: