Effective private caregiver screening
Yes and do not doubt it for a split second! This missed step may cost you time, energy, and $$$
Private caregiver screening involves having applicant complete an application form. Review it and make sure everything is complete and legible.
Send the caregiver applicant a list of your needs or copy of the detailed job description to read by email. Being as detailed as possible, discuss with the applicant the services you expect to be performed, noting anything he or she is not willing or train to do. Try to be as informative as possible about the position to avoid any future surprises. Be clear about your expectations, the salary and time commitment.
Look for someone who has experience with the type of tasks that the senior will be requiring, particularly if the care recipient has special needs, such as memory impairment or physical disabilities.
Try to assess as much as you can about the applicant by what they're telling you and how they appear during the interview. In addition to the

caregiver interview

, these are also important considerations about the applicants.
Overall did the caregiver applicant;
Arrive on time?                                                      

Present him/herself well?

Does she/he have reliable transportation?

Did he/she listen to your concerns?

Flexible to scheduling?                                                  

Do you think the caregiver and senior's personality match?

Can you work together long term with this caregiver in terms of the communication?

Is there mutual and understanding of the care needed? 
It is recommended to have someone with you during the interview. Their company will help you feel more comfortable and confident. The additional person who is present may also be able to give you another impression of the applicant when the interview is complete.
Is not recommended to hire only one caregiver for a 24/7 position. Your caregiver will require time for the personal needs and interests, and you will also need to factor in that issues and situations may come up, that are out of your control. Caregivers who live-in cannot be expected to be on call 24 hours a day. If the care recipient needs frequent help for supervision, you should hire a total of 3-4 caregivers. 
24 Hour (HR) Care Team Usually Involves:
1 live-in caregiver

1st Respite caregiver (1x 8 HR shift + 1x 4 HR shift + flexible to cover partial schedule of live-in caregiver)

2nd Respite caregiver (1x 8 HR shift + 1x 4 HR shift + flexible to cover partial schedule of live-in caregiver)

3rd Respite caregiver (1x 4 HR shift + on call part-time to fill in shifts where needed-make sure this caregiver is flexible with his/her schedule before you hire them)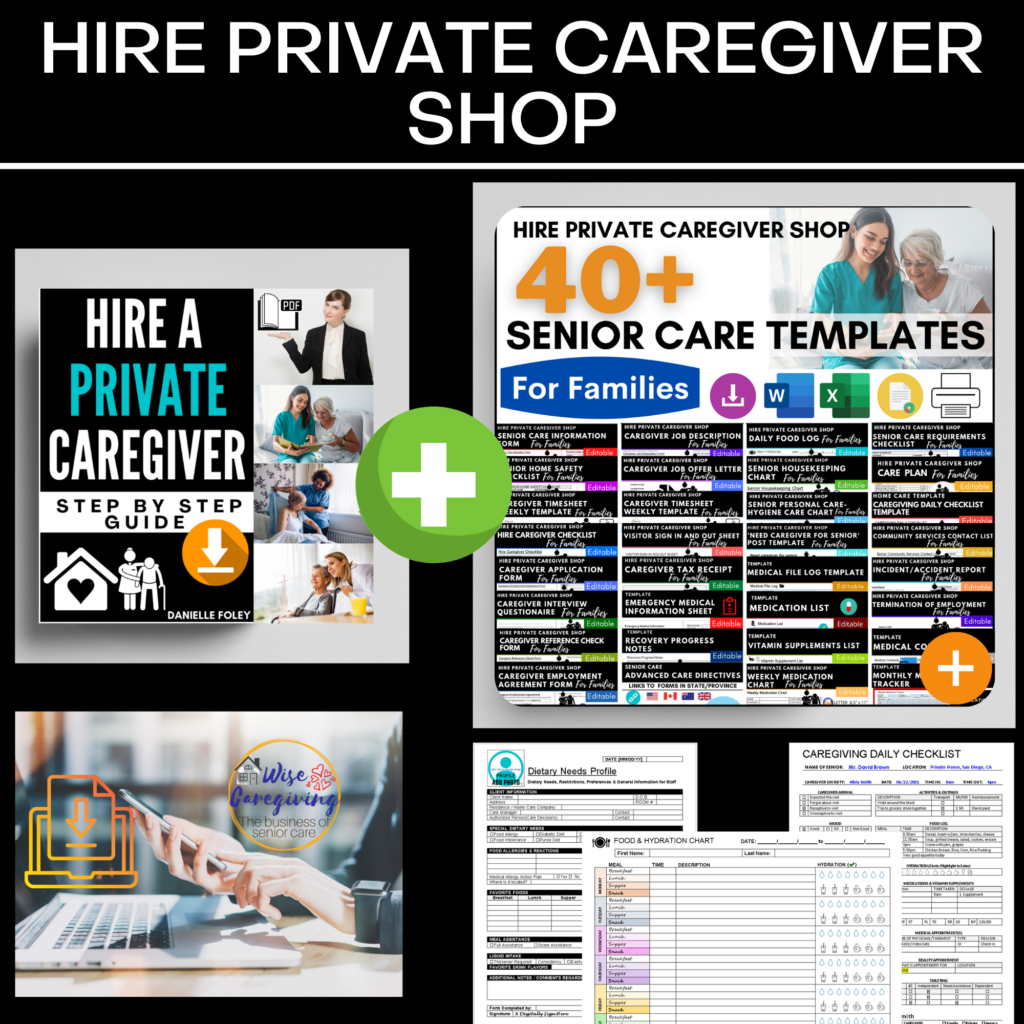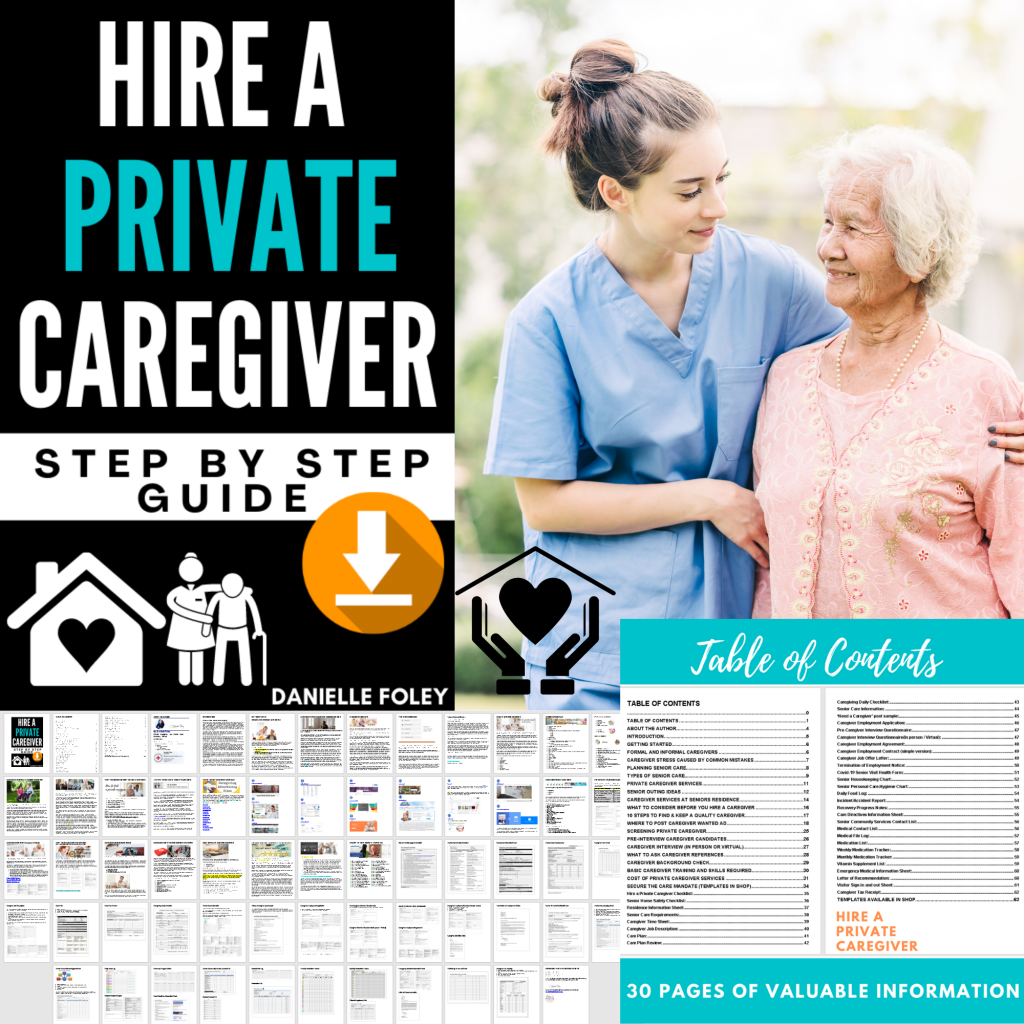 The 'Hire a private caregiver guide' also includes 40+ professional senior care templates
Home Care Templates (non-medical)
Hire a Private Caregiver Checklist
Home Safety Checklist
Residence Information Sheet
Senior Care Requirements Checklist
Caregiver Time Sheets
Caregiver Job Description
Care Plan
Care Plan Review
Dietary Profile Sheet
Caregiving Daily Checklist
Senior Care Information Form
'Need a Caregiver' Sample Post
Caregiver Employment Application
 Pre-Interview Caregiver Questionnaire
Full Caregiver Interview Questionnaire
Caregiver Reference Check-Call Script
Caregiver Employment Agreement
Caregiver Employment Contract
Caregiver Job Offer Letter
 Termination of Employment Letter
Covid-19 Visitor Health Form
Senior Housekeeping Chart
Senior Personal Care-Hygiene Chart
Daily Food Log
Incident/Accident Report
Recovery Progress Notes
Care Directives Information Sheet
Senior Community Services Contact List
Medical Contacts Sheet
Medical File Log
Medication List
Weekly Medication Trackers
Monthly Medication Tracker
Vitamin Supplement List
Emergency Medical Information
Letter of Recommendation
Visitor Sign in and out Sheet
Employee Letter of Recommendation
Toileting Charts
Visitor Sign in and out Sheet
Caregiver Tax Statement (yearly care costs -to have you or your caregiver fill out)
Senior Care Invoice (To give to your hired caregiver to use to keep care costs in order)