What is Non Medical Caregiving? 
There are two types of caregivers:
Formal caregivers

for seniors are paid  in exchange for care services provided.

Informal caregivers

are family and friends who provide care without financial compensation.
To be a caregiver for the elderly means you provide emotional support, personal hygiene assistance, housekeeping, transportation, and social interaction. 


List of non-medical caregiving services
Personalize Caregiver Services
Everyday chores such as grocery shopping for example can be overwhelming for seniors. A senior will tend to plan the whole day around a a simple trip to the grocery store. A caregiver can assist with this task and others to take some or all of the stress out of what may seem like complicated and draining events.
Errands (Daily Essential Needs)
Accompany senior to:
Grocery
Retail stores
Pharmacy
Bank
Dry cleaners
Vet 
Appointments (Medical & Non-Medical)
A caregiver can be a set of eyes and ears at an appointment, likewise he/she can request to record audio, or ask the medical professional to send a summary of findings by email.
Doctors
Therapists
Optometrist
Dentist
Specialists
Hairdresser
Podiatrist
Beauty & Spa
Housekeeping 
Keep a seniors home, or room in a care facility clean
Wiping down all touched surfaces with disinfectant
Mop Floors
Vacuum Floors / Sofa / Drapes
Clean and disinfect bathroom
Wipe down kitchen area
Dusting
Laundry
Ironing
Garbage/compost/recycling

Bathing & Grooming
Assistance with:
In and out of bath
Washing
Shaving
Cut finger & toe nails
Cleaning teeth/dentures
Assistance with toilet/diapers
Brushing hair
Apply make-up
Apply moisturizer
Advanced Meal Preparation 
Same day preparation or advanced preparation.
Serve breakfast, lunch, supper, or snack
Set up table for next meal
Cook and freeze 1-2 portion meals-label-reheat as needed
Purchase pre-made meals that can be frozen

Exercise with Senior (Indoors and Outdoors)

Walking
Biking
Swimming
Bowling
Golf range
Gardening
Pet Care
Daily walks
Changing litters
Replenishing food
Water
Grooming
Veterinary appointments
Senior outings  – Staying Active and Independent for as Log  as Possible
A caregiver can accompany a senior to a variety of activities and events: 
Museums
Library
Movie
Theater
Ballet
Opera
Weddings
Funerals
Gala dinners
Festivals
Religious services
Scenic drive 
Caregivers lend eyes and ears to family members. In some cases, family members do not live near their senior loved one(s). Most family members who are a part of the "sandwich generation", are caught between the stresses of caring for their aging parent, as well as their own children, and career. They require additional resources to help care for their senior loved one(s).  
Families place a lot of trust in the hands of hired private caregivers to provide support, stability, and security to their senior loved one(s). 
A private caregiver's greatest asset is how well he or she communicates with family members to keep them well informed after each visit. It will also help alert the family of any obvious changes in behavior, or mental state. 
Now, more than ever, caregivers are in demand with the increasingly large aging population. Wise Caregiving can navigate you through the process of starting your senior care business, or simply improving your day to day operations in your current business.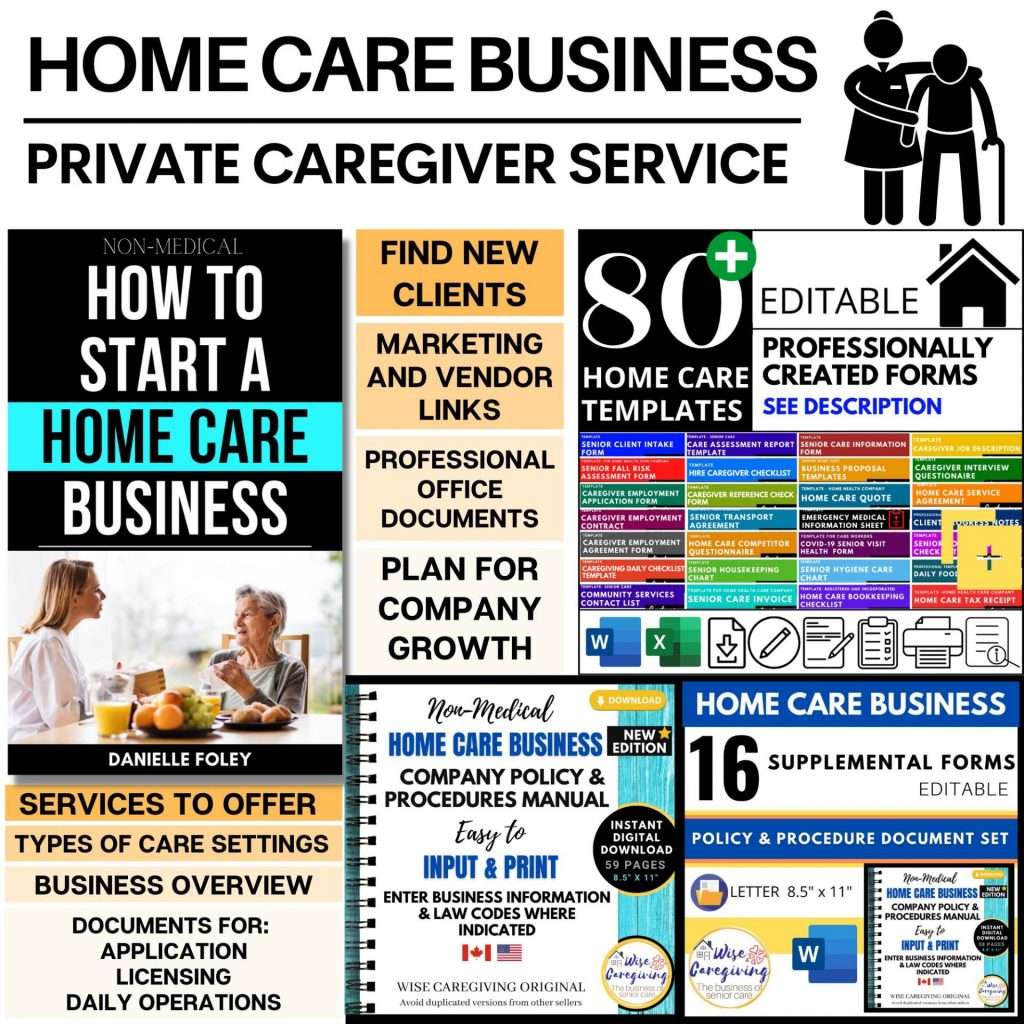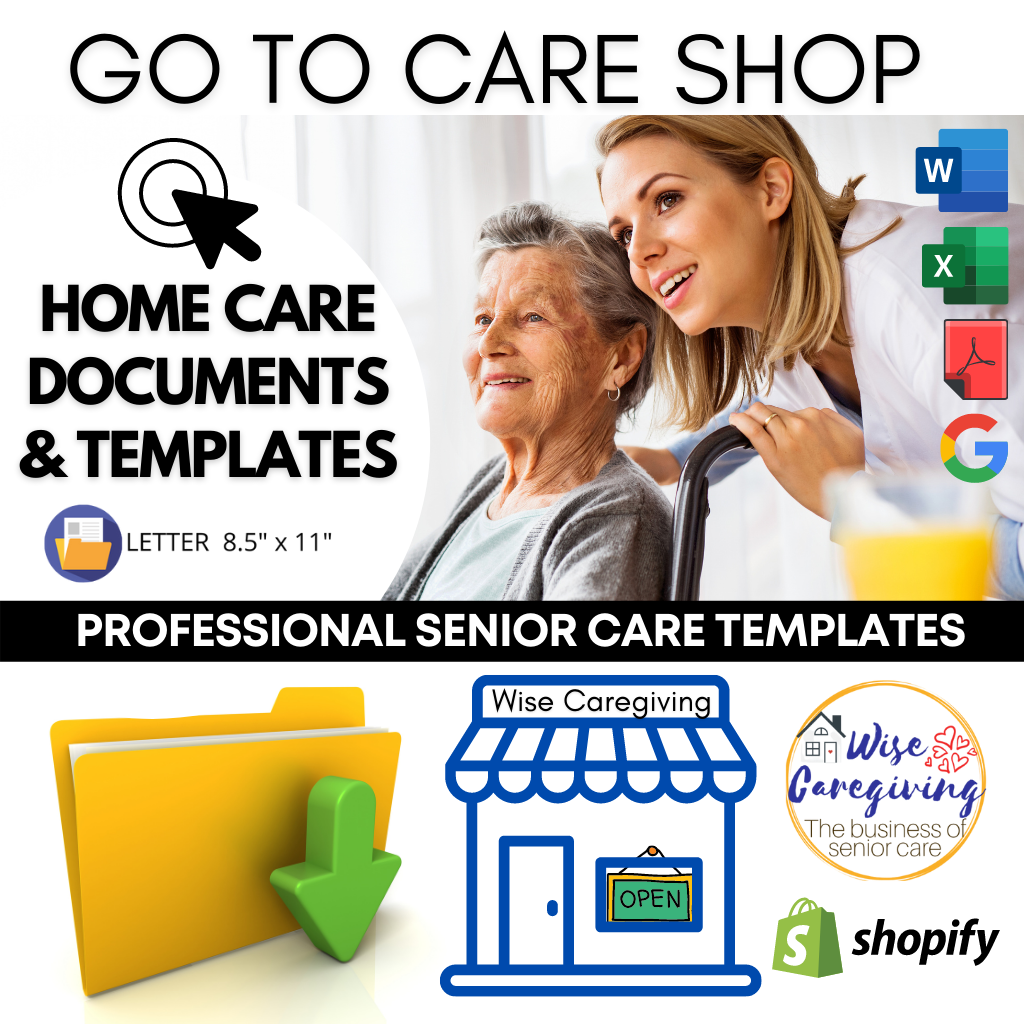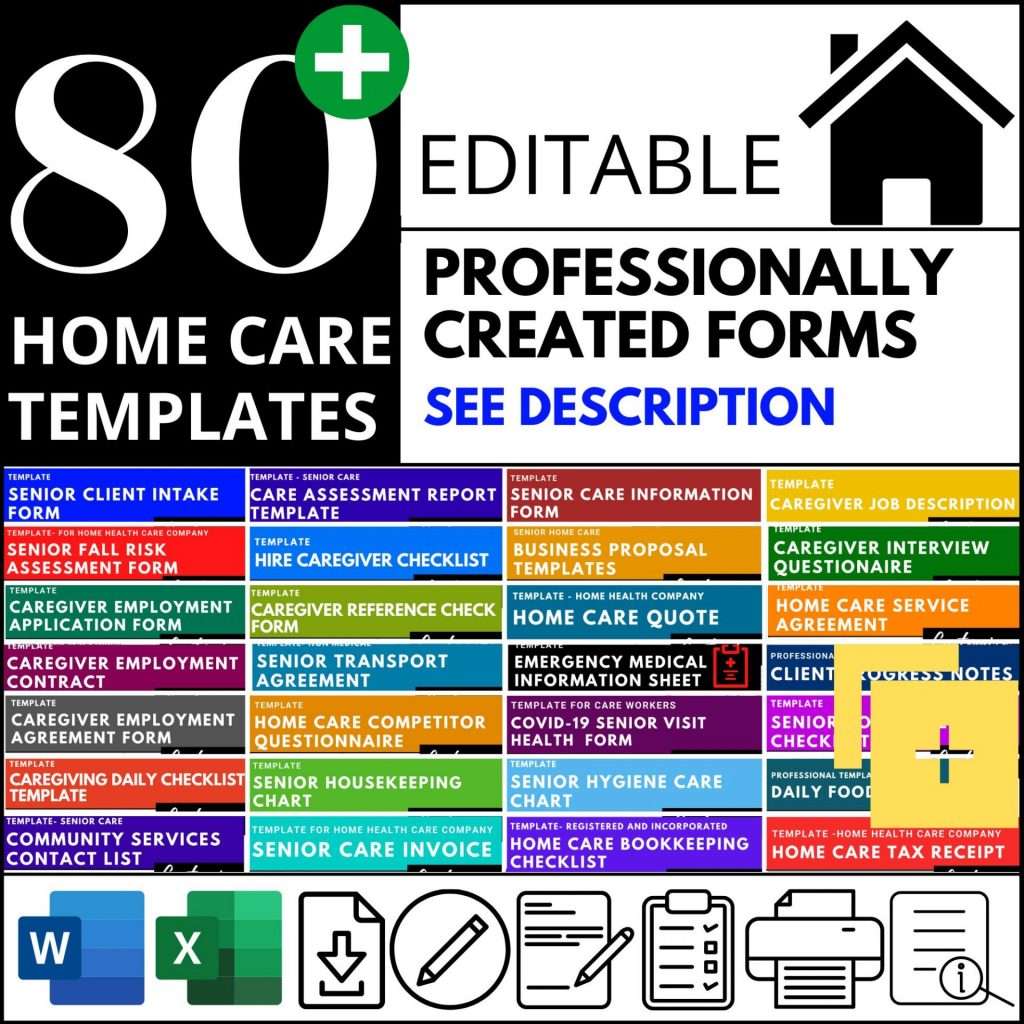 OR… Are you in the process of hiring a private caregiver for a senior loved one and need some guidance?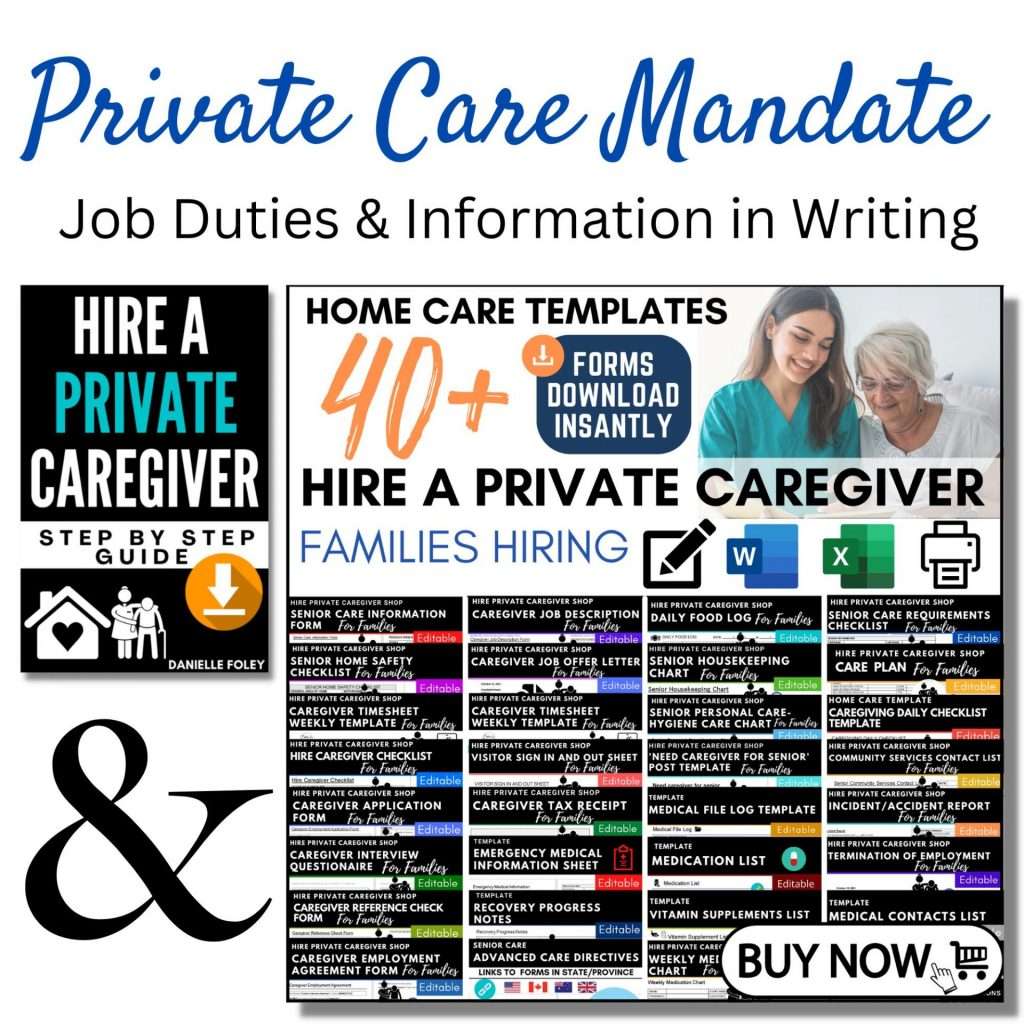 Hire a Private Caregiver Guide takes you quickly through the need to know details of hiring privately
Home Care Templates (non-medical)
Hire a Private Caregiver Checklist
Home Safety Checklist
Residence Information Sheet
Senior Care Requirements Checklist
Caregiver Time Sheets
Caregiver Job Description
Care Plan
Care Plan Review
Dietary Profile Sheet
Caregiving Daily Checklist
Senior Care Information Form
'Need a Caregiver' Sample Post
Caregiver Employment Application
 Pre-Interview Caregiver Questionnaire
Full Caregiver Interview Questionnaire
Caregiver Reference Check-Call Script
Caregiver Employment Agreement
Caregiver Employment Contract
Caregiver Job Offer Letter
 Termination of Employment Letter
Covid-19 Visitor Health Form
Senior Housekeeping Chart
Senior Personal Care-Hygiene Chart
Daily Food Log
Incident/Accident Report
Recovery Progress Notes
Care Directives Information Sheet
Senior Community Services Contact List
Medical Contacts Sheet
Medical File Log
Medication List
Weekly Medication Trackers
Monthly Medication Tracker
Vitamin Supplement List
Emergency Medical Information
Letter of Recommendation
Visitor Sign in and out Sheet
Employee Letter of Recommendation
Toileting Charts
Visitor Sign in and out Sheet
Caregiver Tax Statement (yearly care costs -to have you or your caregiver fill out)
Senior Care Invoice (To give to your hired caregiver to use to keep care costs in order)