5 Great ways for a caregiver to connect with a new senior client
A caregiver's success is only as good as how well they can connect with a new senior client and grow the relationship over time.
Ask yourself each visit how you can add value to the daily life of your senior client(s). What can you do for your client(s) that will really make the visit a true success.
Over the years working as a private caregiver I have been able to condense what I think has been a big contributor to my success working with senior clients and their families. Learning how to connect with a senior client is one of the most important parts of your job as a caregiver.
It really just comes down to the ability to connect with a senior authentically. When you operate from a place asking of what can I do for my senior client, you will see direct positive results in the relationship and your business.
With time you will gain experience and knowledge with the seniors you work for. You will learn how to communicate with the families of seniors, care teams, and medical professionals. All your gained knowledge as a caregiver can be put to use with future senior clients. Ask yourself things like what value and skill can you provide to the best of your ability, what areas could you work on, and where can you meet other like minded individuals in the senior care field.
If you are a new caregiver, the best way to acquire experience is to practice the 5 key ways to connect with a senior client as a volunteer in a senior residence. In a long-term residence you will be exposed to many seniors at once, and be exposed to the inner workings of the care professionals. Watch how they interact with the residents and pick up what you can along the way, think of it as an internship.
5 key ways to connect with a new senior client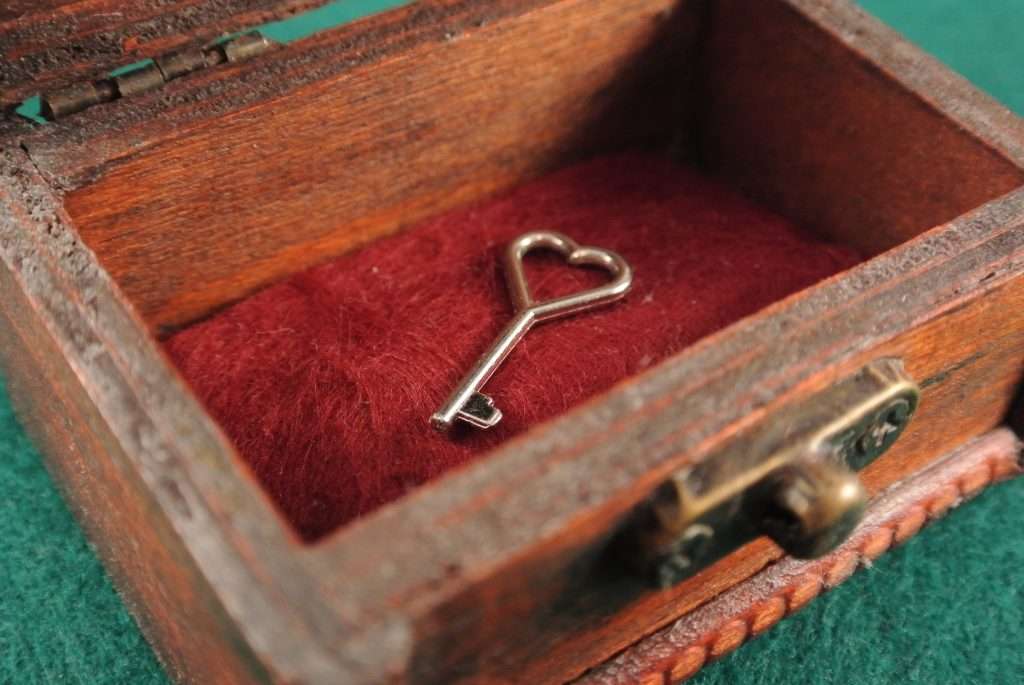 1. Ask important questions
Ask the family during, as well as after your caregiver interview some important questions to build your information base. The best way to enter into a caregiver – senior relationship is to know more about your new senior client before your first visit. Find out what makes their loved one come alive, what matters most to them.
Learn as much as you can about your senior client(s) habits and customs in and around where they live. It will be your job to find the top five caregiver services will help the family or person in charge will most while you visit. Of course the list will grow over time and a good private caregiver will adapt to all the priorities, as well as all the changing needs of the senior over time.
Ask the family initially and periodically throughout your mandate how can you assist your senior client during your time together. What are the simple yet special small details that would be helpful to know, things that can create instant connection or spark interest.
You can also ask questions about the history of your client, who they are now is a result of the many years that they were a part of the daily inner workings of their community. Things such as; what did they like doing while they were young? Where did they go to school? What level of schooling did they complete? What did they do for work? Career is a big one. What are some of the accomplishments that they are very proud of in their life? Favorite type of music etc…
Main information to start with;
Location where they grew up

Siblings

Nieces/Nephews (some cases very close if senior never married)

Spouse

Children

Grandchildren

Great grandchildren

Career

Volunteer work

Interests (arts, travel, social groups, music, reading etc)
Keep in mind that you need permission from the family or person in charge of senior care to do certain activities.
Often when you have a good foundation to work from, a senior client will know if the family trusted you with personal information, perhaps even enough in order for them to have the comfort to open up and elaborate on what you already know.

2. Conversation tips
In order to initially connect with a senior client it will require you to find a way to relate to them. Analyze the level and ability of communication of your senior client and then proceed.
The initial conversation should be about them by asking them questions (but not too many), and then slowly move into some mutual interests to keep the conversation going. When you find some common ground, your senior client may want to ask you a few questions as well. One question you might get is why are you asking me all these questions! Be prepared to offer an explanation. It is a good idea to find out what the family is comfortable with your prepared answer. You can always change the topic and steer the conversation in another direction.
What you want to scan for in the first few minutes are the first few key points in the initial conversation that will keep it going and buy you more time to gather more information as to where to lead the communication. The conversation is about creating a safe and comfortable space where your senior client can really enjoy the conversation with you.
Basic conversation can be in some cases the highlight of a seniors day. The moment you see a smile, a strong interested reaction, or laughter is when you start to feel your purpose and how your new client will benefit from your caregiver services.
Try to gauge at what speed and clarity that you need to speak at, as well as when you should add on, begin to slow down, or work towards a conclusion of the topic. Sometimes you may need to switch mid-conversation, just make sure to follow the lead of your client and allow them to control the conversation change. Find small ways while you are listening to connect with a client throughout and maintain a natural flow.
When you work with clients who live with dementia it can be challenging to have a conversation when some of it, or all of it does not make any logical sense. Being in this situation can be a challenge at times, but also very rewarding if you discover your ability to relate, follow, understand, connect the wording, as well as respond back to make a senior feel as though you completely understand them.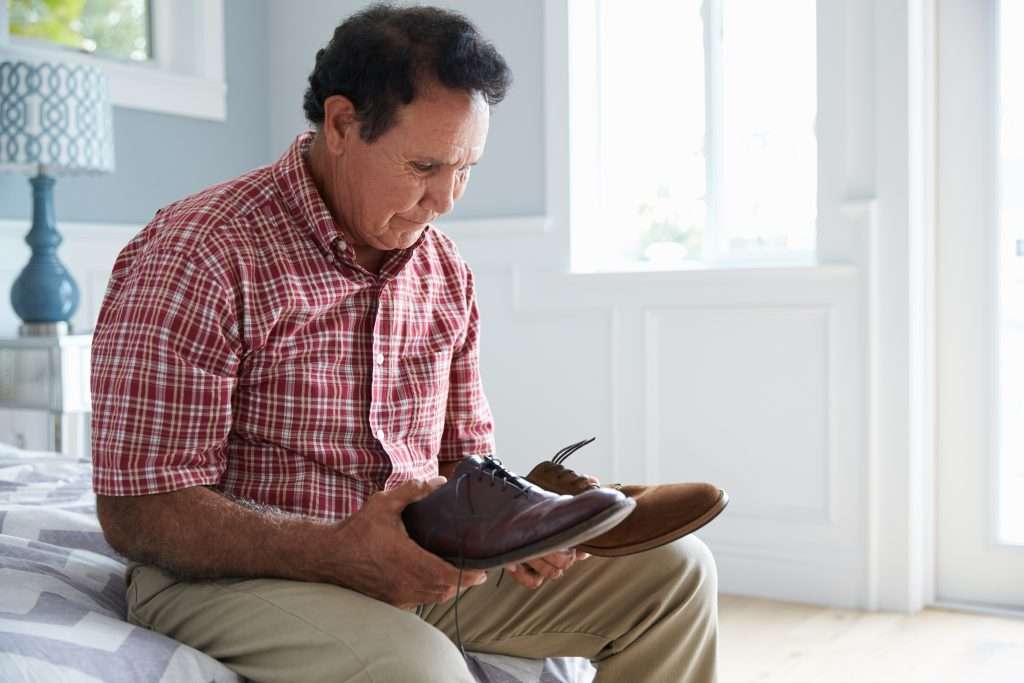 A senior with dementia can 'feel' by your facial expressions if you understand them even if your response does not make sense. It is better to try and take the conversation as it comes and create a flow. This communication skill takes time to develop, but it is one of the greatest gifts that you can offer someone who lives with dementia.
Not to worry if the first 1-2 minutes feels like an absolute eternity while out of your comfort zone, but to a senior they are usually excited, and so happy to have someone to talk to. It takes time like anything but stick with it and you will both grow, and get to know one another.
3. Adjust to environment
Another way to connect with a senior client is to become familiar with their current living environment. See where things are placed and perhaps ask a few questions about items in the room or house that might be of special importance such as photographs, wall hangings, decorations, pets etc.
During your first few visits try to refrain from touching or moving anything personal. Ask if you can do anything to help out, say reach something high or low, retrieve something from a different room or level in home or residence. Sometimes things get misplaced and this might just be your chance to demonstrate your usefulness. What you consider a small action might seem like a huge task to a senior. A good example of this would be the TV lost the cable signal and with a few adjustments on the remote the TV is back in working order.
4. Be present in the moment
Often it is the simplest of moments where you can find a way to connect with senior client. Being aware and stay in the "now" as much as possible, this is especially important when you are working with a senior who lives with dementia. Observe what is going on around you by using your 5 senses and try to incorporate those elements into your conversations. Even when you feel yourself tense up due to a long silent pause or don't feel comfortable, remember that you are present to make your senior client comfortable and safe. When you remind yourself of this simple fact it takes you back to the present and you can focus and find a way to enjoy the moment together.
In all honesty most of your greatest connections will be found in those awkward moments where you are both experiencing something new together. Being present, spontaneous, creative, adaptable, positive and it will lead you to new heights in your senior care business.
5. Professionalism counts
If your plan is to obtain quality work with senior clients and their families then you need to prove that you are an excellent caregiver who will go above and beyond to improve a families senior loved one(s) quality of daily life, as well as make their lives easier moving forward.
Understand the value that you bring as a caregiver with a unique set of strengths. Your job is to provide a superior service for your senior clients. Equally important is to make sure that the family members or people the person in charge of the senior care feel valued as well, and your actions will get noticed and appreciated. An excellent way to start your business or incorporate a new level of professionalism with a new client, is to make the job of paperwork and the gathering of necessary information a lot more simple for your clients. The person who hires you should see and feel the benefits you offer, and that you have a good handle on all the logistics of your senior care business.
Remember to ask for feedback! You should be the one to ask because in most cases this can be an awkward situation for a family member. Given the nature of the relationship and you being in a loved one's personal space, this does require a tactful, open, and honest approach. When you offer a personalized care service part of that is to find out exactly what you are doing right, as well as what you could improve upon or where you could make a change.
Home Care Business Bundle if you plan to work solo and offer one-on-one caregiver services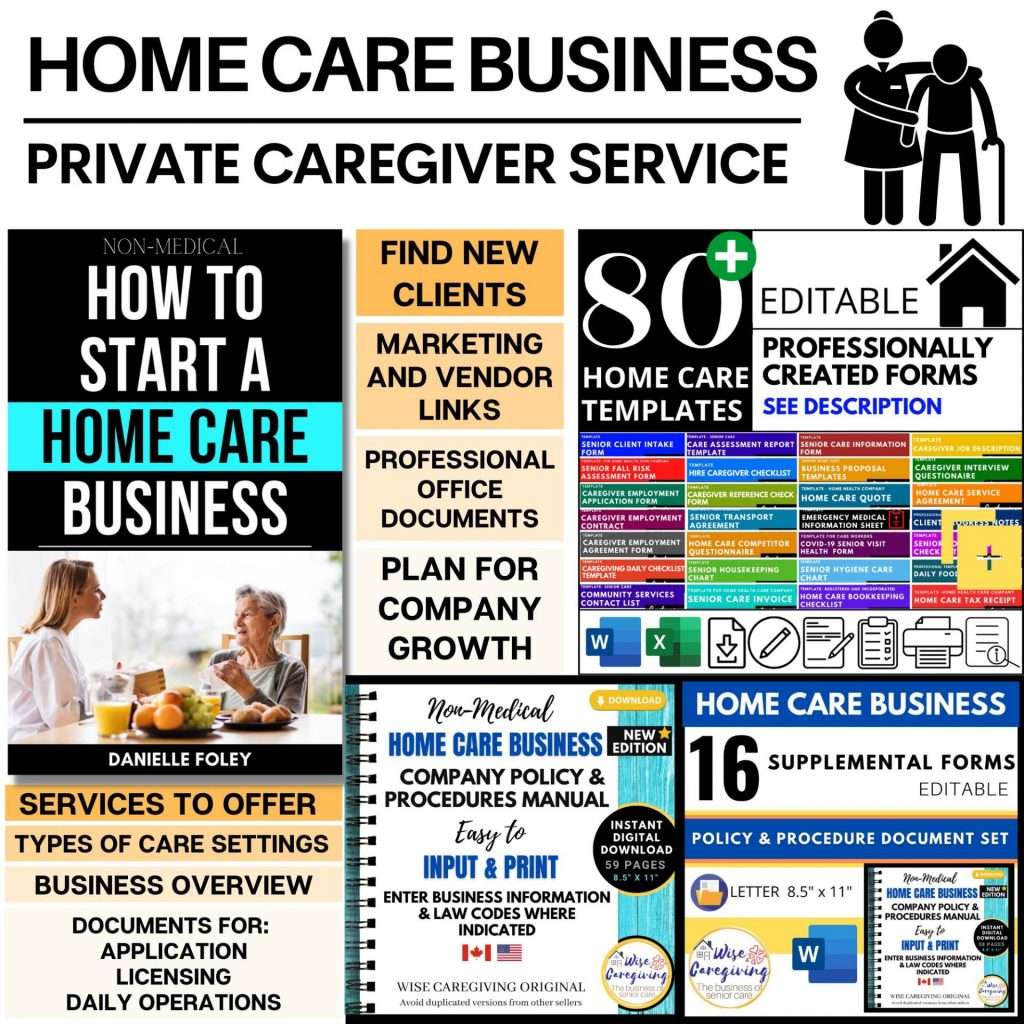 Complete Home Care Business Bundle if you plan to set up, apply for a license, and hire a team of non-medical caregivers
Would you like an overview of the business before you go all in? Give this quick guide a read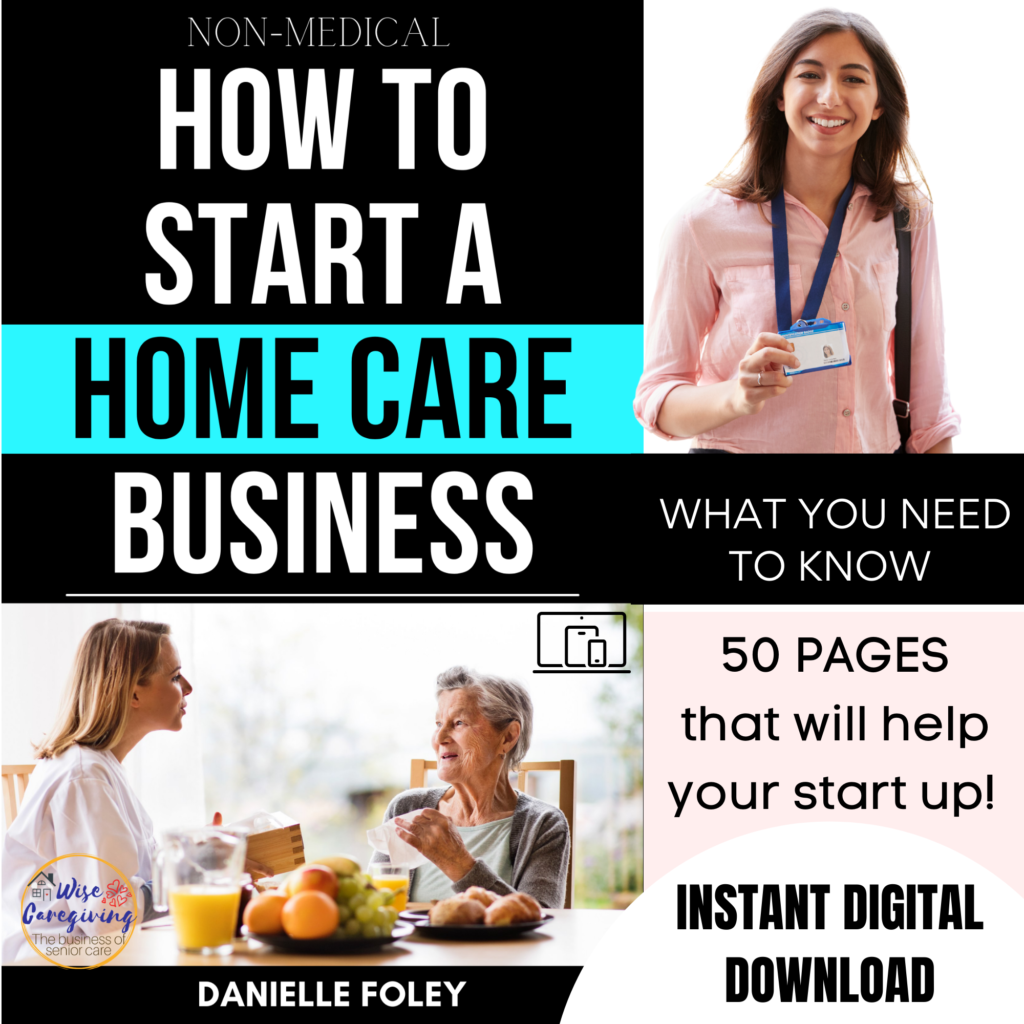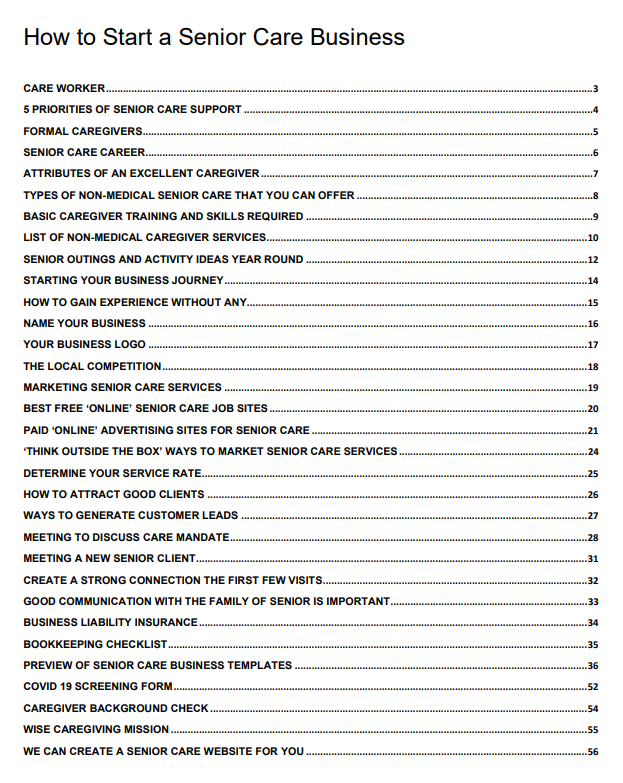 Templates are included with guide 'How to Start a Senior Care Business'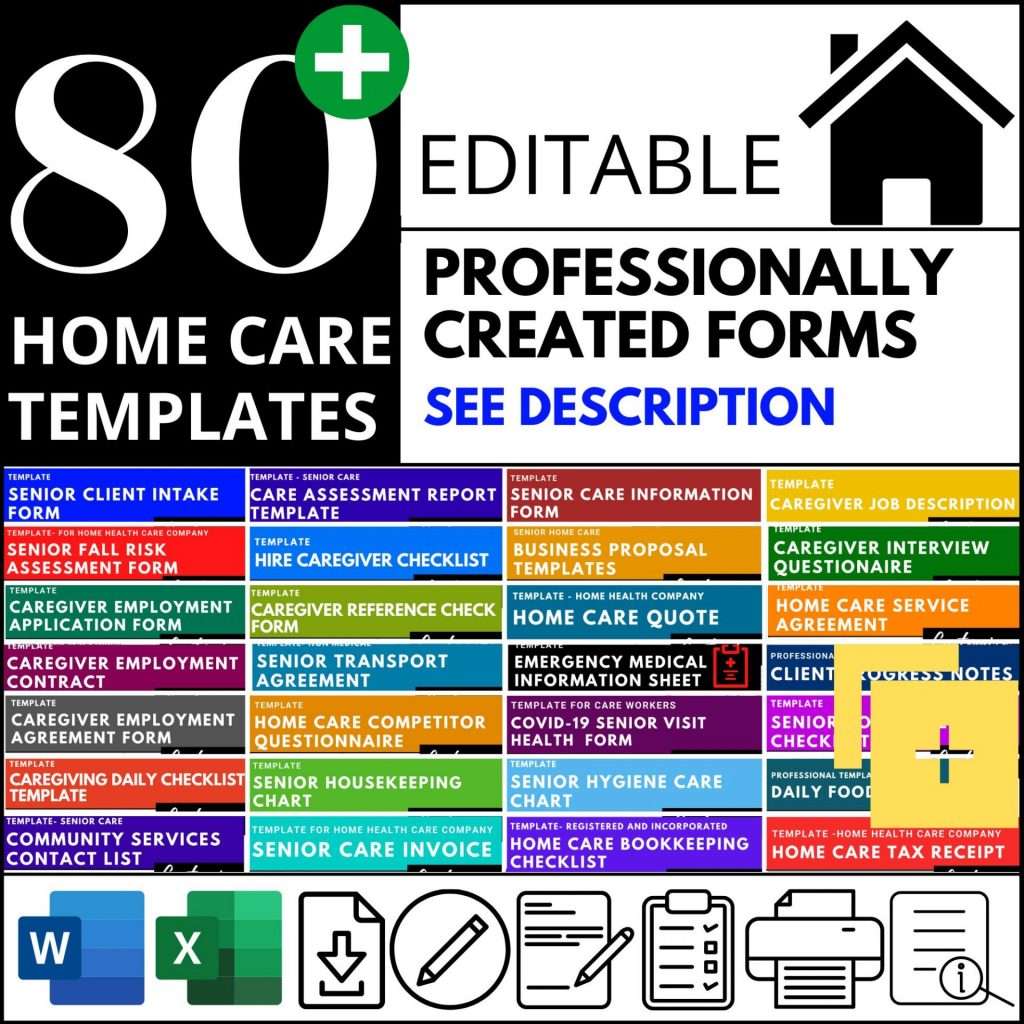 Home Care Business Templates for Daily Operations
Template Bundle (WORD & EXCEL DOCUMENTS)
✔️ Home Care Phone Script
✔️ Home Care Follow up Letter
✔️ Home Care Call Record
✔️ Criminal Background Check
✔️ New Home Care Client Letter
✔️ Independent Contractor Agreement
✔️ Master Client List-Auto Calculates Total Clients
✔️ Client Intake Form-Non-Medical Home Care Business
✔️ Independent Caregiver Service and Fees Information Sheet
✔️ Home Care Agency Service and Fees Information Sheet
✔️ Home Care Rates-All Services Offered (2 Options)
✔️ Caregiver Job Description Form
✔️ Home Care Service Quote
✔️ Home Care Service Agreement (Terms of Service)
✔️ Transportation Agreement-Client Outings (Non-Medical)
✔️ Employee Non-Compete Agreement
✔️ Home Care Service Plan/Plan of Care
✔️ Care Plan Review Template
✔️ Home Care Invoice-*2 FORMATS, TAX RATES, TUTORIAL
✔️ Visitor Sign In & Out Sheet
✔️ Senior Profile Template w/Photo
✔️ Diet Profile Template
✔️ Personal Inventory Checklist (Home/Room in Care Facility)
✔️ Acute Care Assessment Report-One Sheet Quick Overview
✔️ Care Assessment Template (Detailed Care Requirements)
✔️ Home Safety Checklist-Home Overview
✔️ Fall Risk Assessment Form-Detailed Format
✔️ Residence Information Sheet (Quick Reference)
✔️ Proposal Letter-Home Care-For New Clients
✔️ Proposal Letter-Home Care-Organizations and Health Facilities
✔️ Competitor Call Script-Home Care Business
✔️ Caregiver Job Posting-Ad Template
✔️ Hire a Caregiver Checklist-Quick Guide
✔️ Caregiver Application Form Template
✔️ Pre-Interview Caregiver Questionnaire
✔️ Caregiver Interview Questionnaire
✔️ Caregiver Reference Check Questionnaire
✔️ Job Offer Letter-Home Care Employee
✔️ Job Acceptance Letter-Home Care Employee
✔️ Caregiver Employment Agreement-Long format
✔️ Caregiver Employment Contract-Short Format
✔️ Caregiver Profile Sheet (Quick Reference)
✔️ Time Sheet Weekly-Caregiver Employees
✔️ Caregiving Daily Checklist (Journal-Visit Log)
✔️ Housekeeping Chart/Checklist-Home Care
✔️ Personal Care Checklist-Home care
✔️ Toileting Chart (2 Layout Options)
✔️ Client Progress/Recovery Notes Template
✔️ Weekly Food Log-Meal & Hydration Tracker
✔️ Letter of Recommendation-Home Care Employee
✔️ COVID-19 Screening Form for Visitors
✔️ Proof of Income and Employment Letter
✔️ Final Employment Warning Letter-Caregiver
✔️ Termination of Employment Notice-Caregiver
✔️ Incident/Accident Report Form Template
✔️ Emergency Medical Information Template
✔️ Community Services Contact List (Routine Visits)
✔️ Care Directives-End of Life Wishes Form
✔️ Medical File Log-(2 Sizes-Letter + A4)
✔️ Medication List-(2 Sizes-Letter+ A5)
✔️ Weekly Medication Tracker
✔️ Monthly Medication Tracker
✔️ Medical Contacts List
✔️ Vitamin Supplement List
✔️ Service Price Increase Letter-Business Template
✔️ Home Care Tax Statement Template
✔️ Bookkeeping Checklist-Home Care Business
✔️ Activity Sheet Template-Monthly (3 Sizes)
✔️ Menu Template-Weekly (3 Sizes)
✔️ Home Care-Closure of Account
✔️ Personal Information Protection & Electronic Document Act
✔️ Termination of Home Care Services-Master Template