Information and tools in the 'Hire a private caregiver guide – includes 40+ Templates

Select a private caregiver that puts the best interest of your loved one(s) first.
Hire a Private Caregiver Guide (includes 40+ senior care templates)
This hire a private caregiver guide will help you through each step of the hiring process so that your senior loved one(s) receive the best possible care at the right price. Included with the guide are master templates that can be used digitally or printed.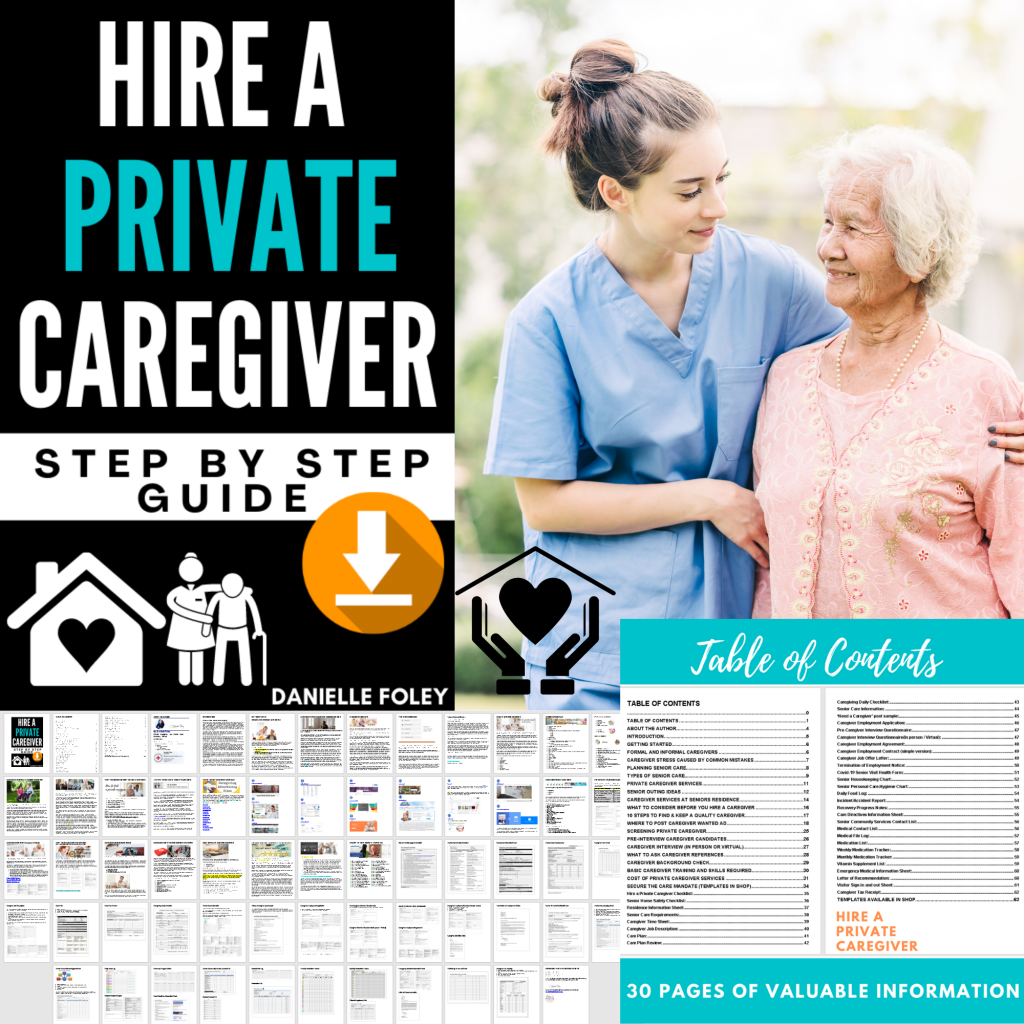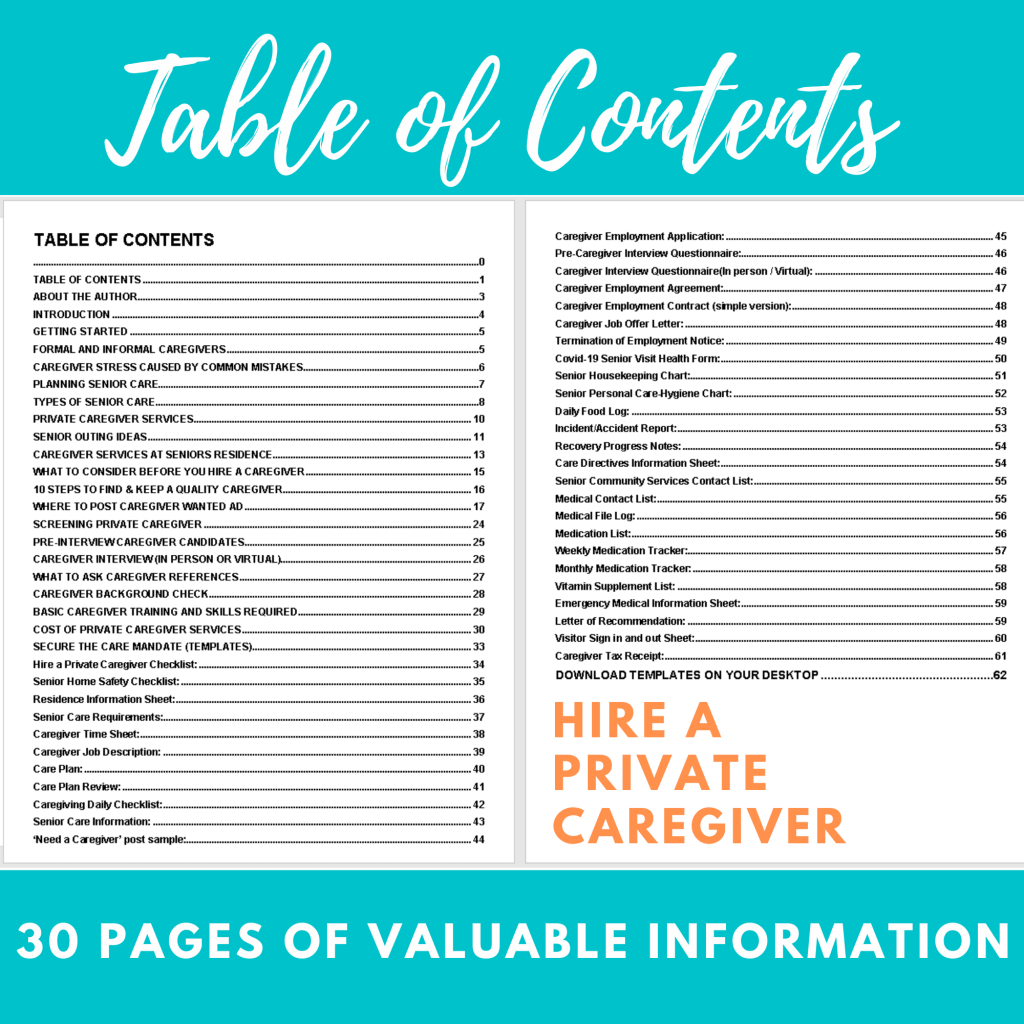 Templates included with guide (WORD & EXCEL):
Home Care Templates (non-medical)
Hire a Private Caregiver Checklist
Home Safety Checklist
Residence Information Sheet
Senior Care Requirements Checklist
Caregiver Time Sheets
Caregiver Job Description
Care Plan
Care Plan Review
Dietary Profile Sheet
Caregiving Daily Checklist
Senior Care Information Form
'Need a Caregiver' Sample Post
Caregiver Employment Application
 Pre-Interview Caregiver Questionnaire
Full Caregiver Interview Questionnaire
Caregiver Reference Check-Call Script
Caregiver Employment Agreement
Caregiver Employment Contract
Caregiver Job Offer Letter
 Termination of Employment Letter
Covid-19 Visitor Health Form
Senior Housekeeping Chart
Senior Personal Care-Hygiene Chart
Daily Food Log
Incident/Accident Report
Recovery Progress Notes
Care Directives Information Sheet
Senior Community Services Contact List
Medical Contacts Sheet
Medical File Log
Medication List
Weekly Medication Trackers
Monthly Medication Tracker
Vitamin Supplement List
Emergency Medical Information
Letter of Recommendation
Visitor Sign in and out Sheet
Employee Letter of Recommendation
Toileting Charts
Visitor Sign in and out Sheet
Caregiver Tax Statement (yearly care costs -to have you or your caregiver fill out)
Senior Care Invoice (To give to your hired caregiver to use to keep care costs in order)
Here are just a few of the templates that you receive in the download!…
This checklist will help keep you organized and on task throughout the hiring process.
PREVIEW OF TEMPLATES IN 'HIRE A PRIVATE CAREGIVER'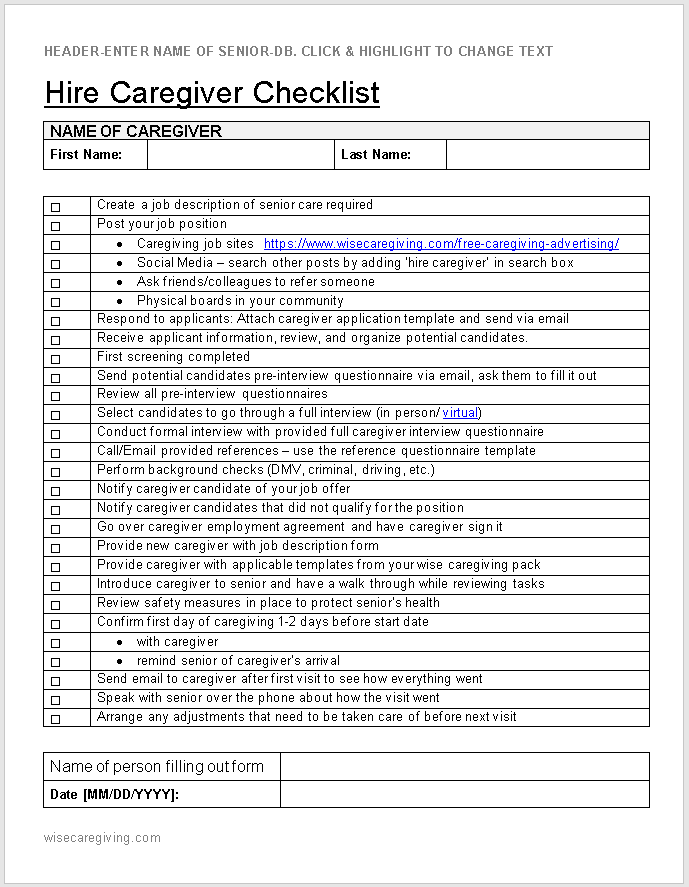 Application form template that you can send to potential caregiver candidates found through caregiving sites, and those who responded to your caregiver ad

Get to know your potential candidates in more detail with these prepared questions.

You can add, edit, or delete parts of this questionnaire

Electronic form-fill or print this form

Remember to follow up with references to cross check these responses.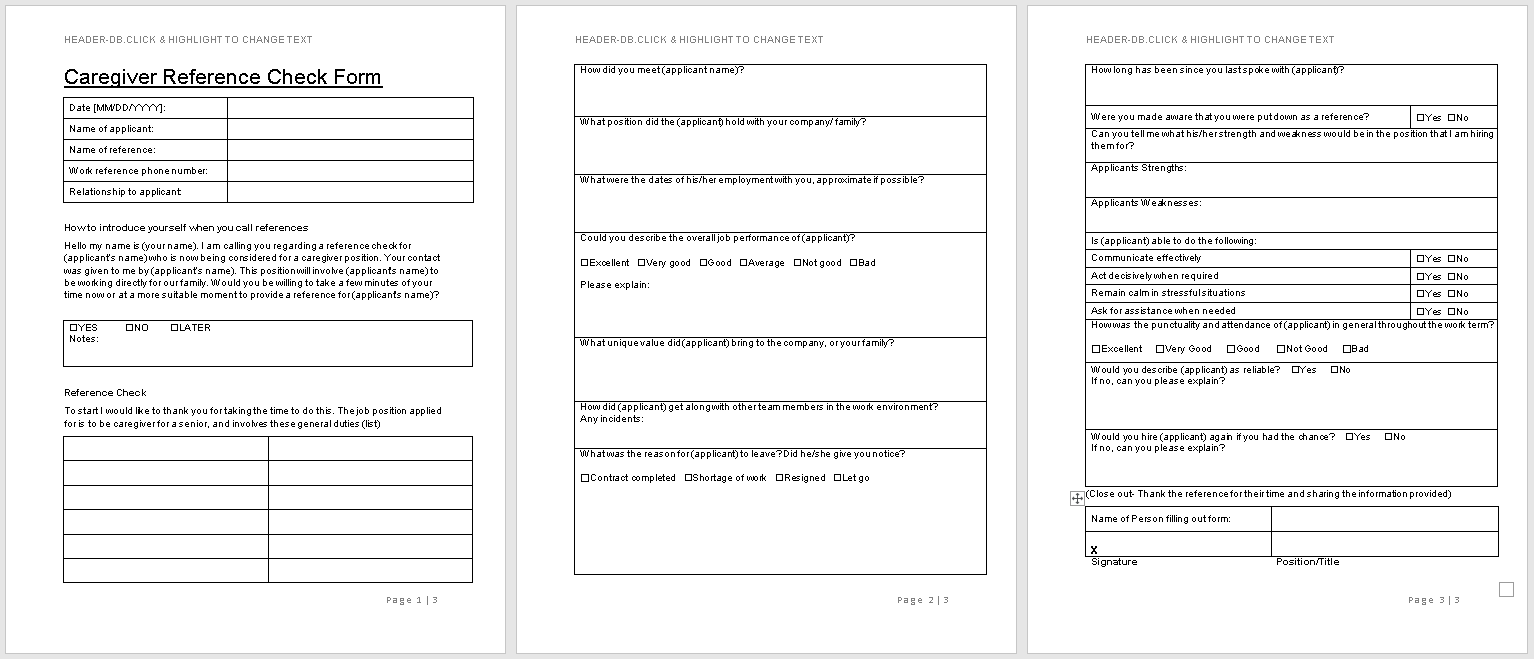 This form is important to fill out and have on hand after you hire a private caregiver. You can auto-fill digitally or manually fill out the form.
The detail instructions in this form helps to ensure that the first few visits for both the senior client and caregiver provide an easier transition.

Job expectations are clear, and as a result avoid confusion.  By avoiding confusion, you can greatly reduce the level of stress.

When a caregiver enters a senior home and know what to do while visiting it helps the bonding process.

If certain tasks need to be completed in or around the residence, the senior will not have to describe the details of what to do.
*It is a good idea on the visit to take the caregiver around the residence and go over the job description form

10-page fillable form (all details needed for required care)

You can print out or digitally fill out send and save this form

This form is a valuable source of information for Doctors and Specialists when a caregiver takes a senior to an appointment

Important information to have access to in a medical emergency
*Should your caregiver need important information quickly, the digital format of this form can be accessed using a computer, phone, or tablet. 
Caregiver employment agreement template: 
Protect yourself the same way home care agencies do when you hire a private caregiver. 
Clarifies job duties and a schedule to follow when private caregiver services are provided.

Everything this document covers in writing:

All fees

Expenses

Reimbursements

Payment terms

Covid-19 guidelines

Lateness

Sick days/personal days

Vacation

Grounds for terminating service

You can customize this form 100%

Add, delete, or Modify however you like 
helps keep house tasks organized (If they were done, and when they were completed)

Work efficiently (set days)

Safeguard seniors living area (safety is primary concern)

Save time from unnecessary communication 

Home remains a comfortable place to stay for senior(s)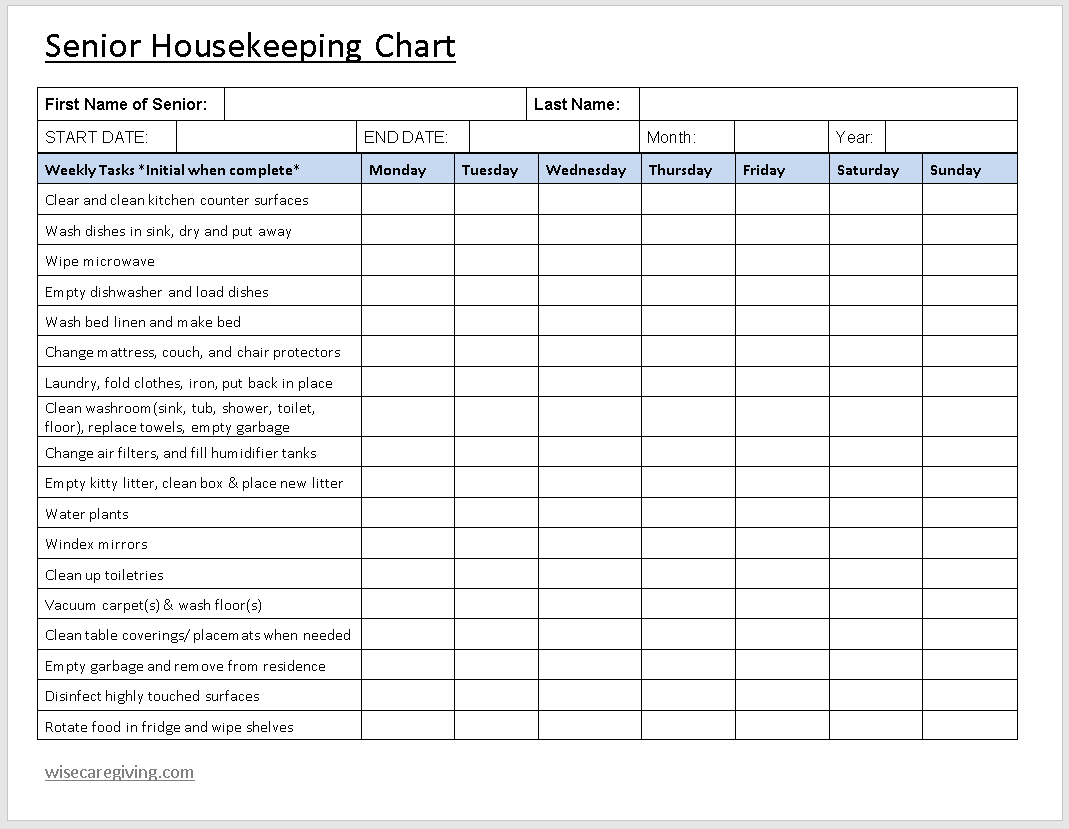 Both the care team and your private caregiver will have the clear information that they need in order to properly care for and meet all the daily needs of the senior.
Basic ADLs (Activities of Daily Living) consist of self-care tasks that include:
Bathing and showering

Personal hygiene and grooming (including brushing/combing/styling hair)

Dressing

Toilet hygiene (getting to the toilet, cleaning oneself, and getting back up)

Functional mobility

Self-feeding
This chart is crucial when a care team of more than one person is in place who are responsible for the care of a senior. This chart is not only useful for seniors living at home, but also if your senior loved one who lives in a facility and the private caregiver provides additional personal care.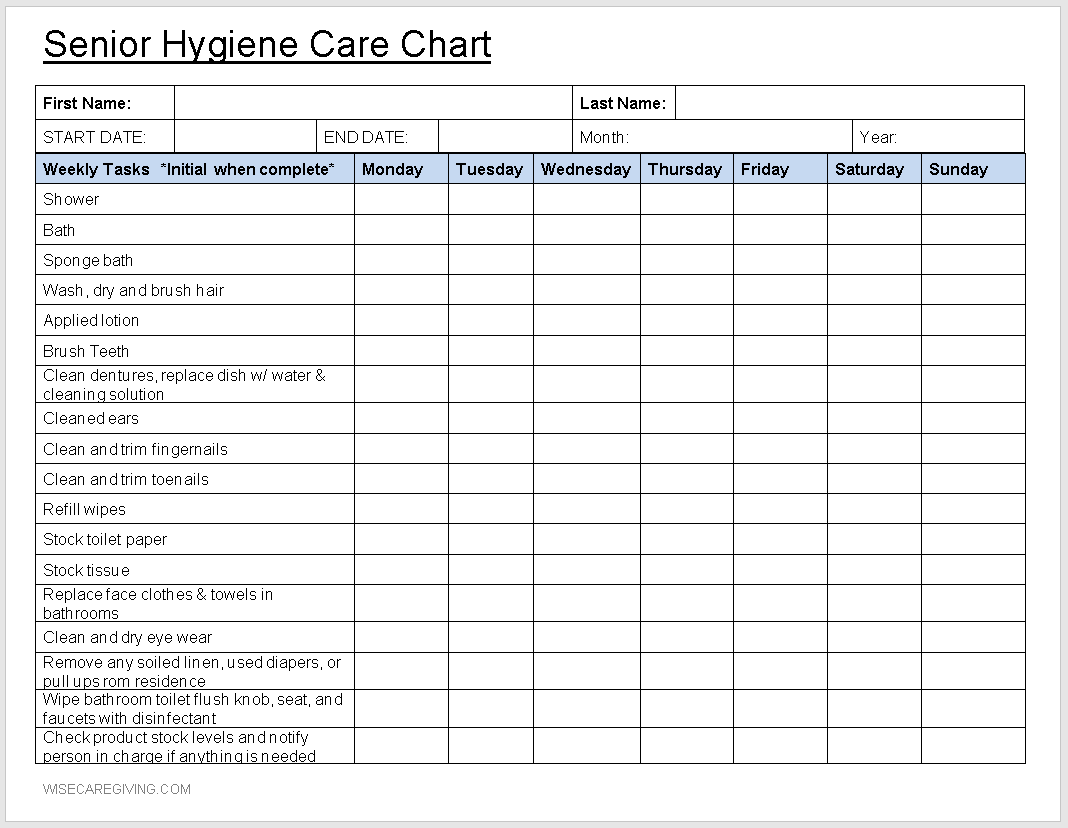 Simple and organized way for your accountant to see the yearly caregiver service cost

Keeps accountant cost down by saving time, and efforts can be focused on applicable senior tax credits.

You can send this form to your caregiver to fill out or complete it yourself.

Fields will automatically calculate

Simply enter invoice amounts for each month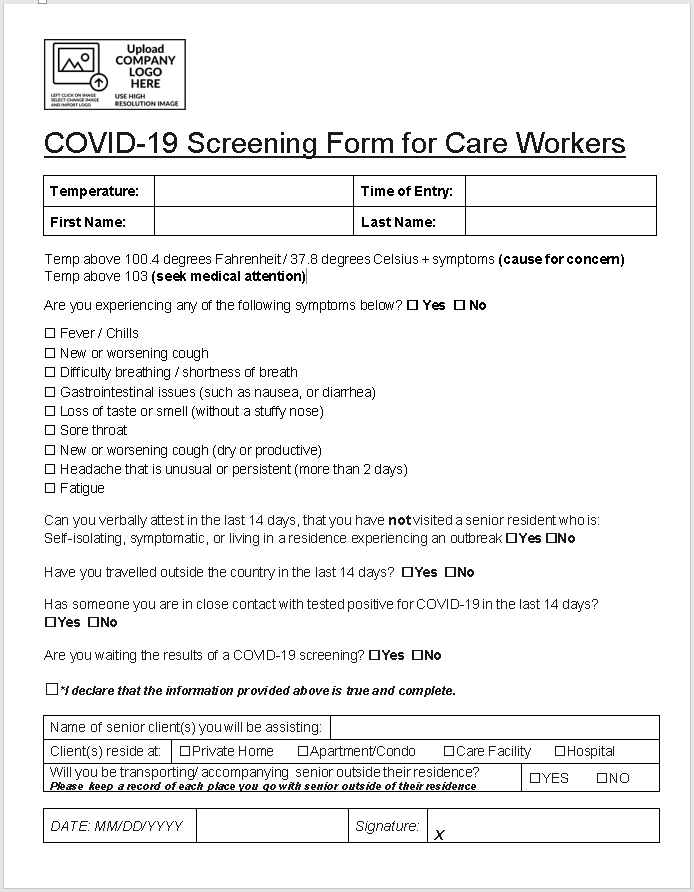 It is important to note that not all private caregivers declare their income, or put agreements in writing. Heading down this path can impose serious a liability & financial risk on your loved one(s), as well as heavy consequences. It is so important to be well informed about hiring privately before you make any final decisions. It may be easier and cheaper to hire a private caregiver that does not pay income tax or have an agreement in writing, but it could lead to a difficult and costly situation down the road.
Need more convincing? When you hire a private caregiver that declares their income your loved one can capitalize on any any of the senior tax credits and deductions, which in turn will offset part a good portion of the caregiver costs over the year. This benefit could even mean that you pay less overall for caregiving services than if you had chosen to the non-declared caregiver option!