What to know before you hire a caregiver 
Common questions and answers when you decide to hire a caregiver for a senior
Number #1 Question: Can I have the same benefits hiring a private caregiver as I would using a home care agency?
When you buy and download the Hire a Private Caregiver Bundle you will receive templates to give to your private caregiver that will make the care tasks easier to manage. This will allow you to find the caregiver you want, but leave them in control of paying themselves, pay  taxes, invoice you, and provide you with a yearly receipt for their services. Often times home care agencies will bring up the advantages they have over hiring privately. The truth is, with a little effort and the help from our guide and templates, your new caregiver will be able to provide everything an agency does. They can even sort out finding a backup private caregiver in the event that they can not be present for a shift.
Can a private caregiver handle payroll and taxes?


Caregivers can easily hire an accountant service that will prepare paychecks and appropriate withholding taxes for a fee. The accountant can also handle all of the year end financials. All your caregiver has to do is keep his/her month to month paperwork in order each month (invoices, expenses, reimbursements, marketing, and gas mileage). When a caregiver takes on this task, it removes a logistical burden off family members of seniors, or seniors themselves.
Most local homecare agencies will try to make you believe that you will have this hugely inconvenient hassle of accounting and extra paperwork on your hands, but in fact this can be handled by the private caregiver at their expense. It is important to remember that a private caregiver is paid more than an agency employed  caregiver, so this is a cost that they are or should be willing to cover. If they want the position they will do what is necessary to make the financial aspect of the job easy for you.
Private caregivers supervises himself or herself and reports directly to the person who is charge of the senior's care. She / He is also responsible for filling out their own social security/social insurance, and Medicare payments and purchasing their own insurance policies.
How do I protect assets that belong to my senior loved one(s)? 
Accidents are not uncommon in the caregiving industry. If you were hiring a private caregiver on your own, verify with your renters or homeowners insurance about coverage for "household employees" in case of an accident.
If a private caregiver will be driving your family car, you will need to provide a copy of your caregivers drivers license to your current insurance agent. If the caregiver has a car, discuss the financial cost to use of his/her car on the job, as well as insurance coverage for transporting seniors.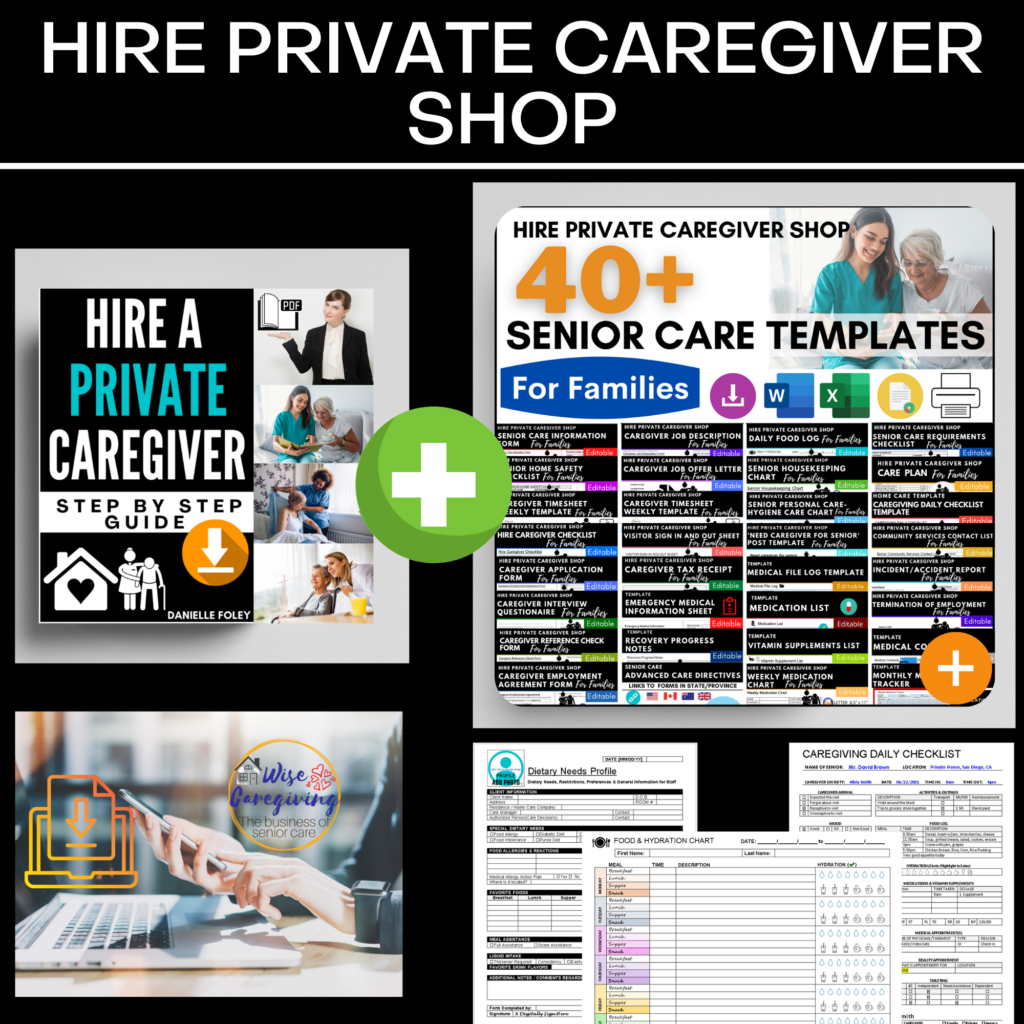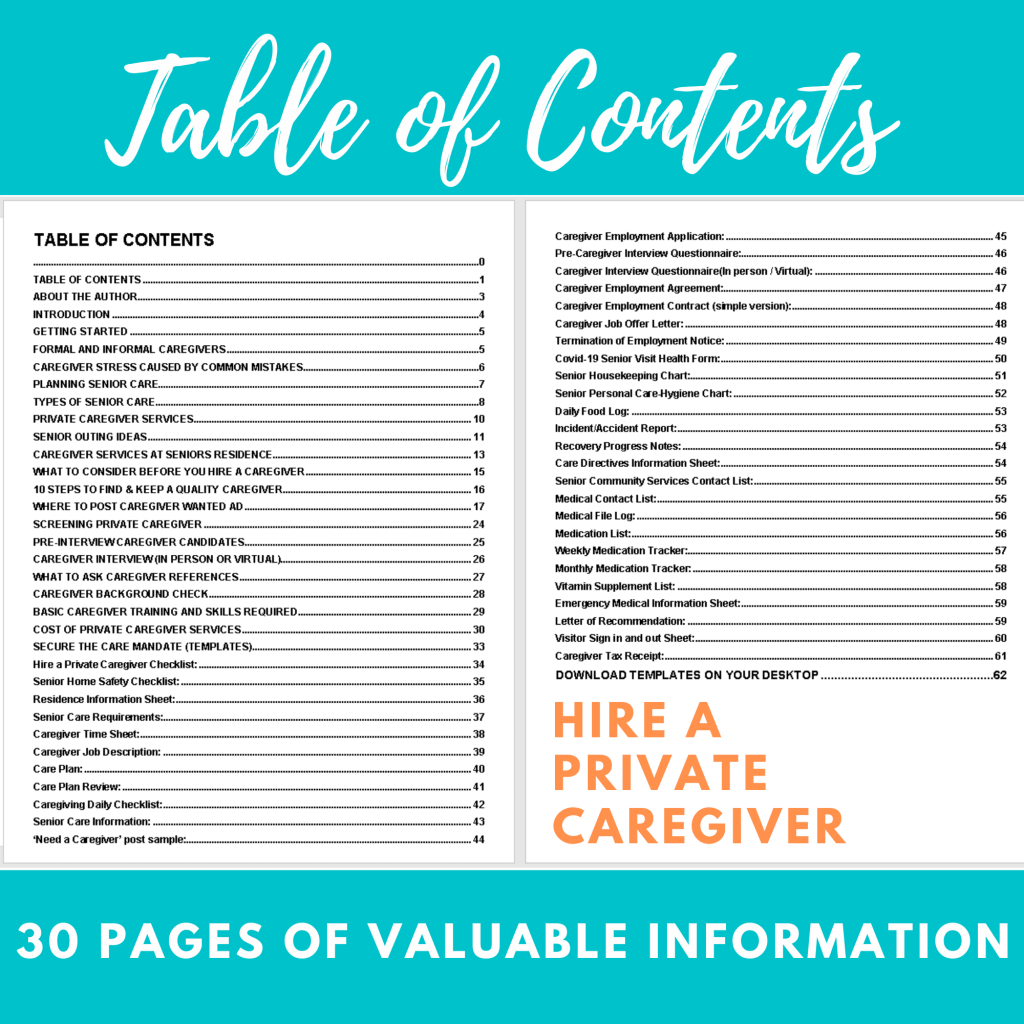 The 'Hire a private caregiver guide' also includes 40+ professional senior care form templates
Home Care Templates (non-medical)
Hire a Private Caregiver Checklist
Home Safety Checklist
Residence Information Sheet
Senior Care Requirements Checklist
Caregiver Time Sheets
Caregiver Job Description
Care Plan
Care Plan Review
Dietary Profile Sheet
Caregiving Daily Checklist
Senior Care Information Form
'Need a Caregiver' Sample Post
Caregiver Employment Application
 Pre-Interview Caregiver Questionnaire
Full Caregiver Interview Questionnaire
Caregiver Reference Check-Call Script
Caregiver Employment Agreement
Caregiver Employment Contract
Caregiver Job Offer Letter
 Termination of Employment Letter
Covid-19 Visitor Health Form
Senior Housekeeping Chart
Senior Personal Care-Hygiene Chart
Daily Food Log
Incident/Accident Report
Recovery Progress Notes
Care Directives Information Sheet
Senior Community Services Contact List
Medical Contacts Sheet
Medical File Log
Medication List
Weekly Medication Trackers
Monthly Medication Tracker
Vitamin Supplement List
Emergency Medical Information
Letter of Recommendation
Visitor Sign in and out Sheet
Employee Letter of Recommendation
Toileting Charts
Visitor Sign in and out Sheet
Caregiver Tax Statement (yearly care costs -to have you or your caregiver fill out)
Senior Care Invoice (To give to your hired caregiver to use to keep care costs in order)