Here are some great ways to find private caregivers 

Before you start looking for a private caregiver consider:
What type and what level of healthcare training is needed?

Any language skills or other special skills needed.

Experience working with memory impairments or other disabilities.

Ability to operate any special equipment.

Has a valid

driver's

 license 

A person in good health (proof of negative covid-19 test)
After you have determined what kind of in-home help you were looking for the next step in this process is how to find private caregivers by placing your job posting in the right places. Knowing exactly what you're looking for in a private caregiver is helpful when sorting through all of the individuals offering caregiver services.
Many caregiver services can really benefit a senior living at home or in a residence. Every senior is unique and has their own set of daily needs and wants to be met. Some seniors who have good mobility want to get out and about with a caregiver present in order to socialize and stay active in the community, while other seniors with less mobility find comfort in being visited at their place of residence and enjoy having a caregiver present for companionship. Now more than ever with COVID-19 still present and restrictions in place, our seniors need to still be able to connect in order to thrive in daily life. 
The very first thing to do before you look for a caregiver is to determine exactly what type of services are or will be required. If  you need care now or in the coning weeks or months now is the time to caregiver job description, which will clearly outline the specific services you will expect from the private caregiver that you hire.


Private caregiving services
Groceries
Assistance getting to the grocery store or making an online order. Everyday chores such as grocery shopping can be overwhelming for seniors. A senior will tend to plan the whole day around a a simple trip to the grocery store. A caregiver can assist with this task and take all the stress out of what may seem like a complicated and draining event.
Errands – Accompany senior or have caregiver pick up items
Grocery
Retail stores
Pharmacy
Bank
Dry cleaners
Vet 
Appointments  – A caregiver can accompany senior clients, and be a set of eyes and ears at an appointment, likewise he/she can request to record audio or facilitate a video chat to be present at the appointment as well.
Doctors
Therapists
Optometrist
Dentist
Specialists
Hairdresser
Podiatrist
Beauty & Spa
Housekeeping assistance – Keep a seniors home, or room in a care facility clean
Wiping down all touched surfaces with a disinfectant
Mop Floors
Vacuum Floors / Sofa / Drapes
Clean and disinfect bathroom
Wipe down kitchen area
Dusting
Laundry
Ironing
Garbage/compost/recycling

Bathing & Grooming Assistance
Getting In and out of bath
Washing
Shaving
Cut finger & toe nails
Cleaning teeth/dentures
Assistance with toilet/diapers
Brushing hair
Apply make-up
Apply moisturizer

Meal Prep – Same day preparation or advanced preparation
Serve breakfast, lunch, supper, or snack
Set up table for next meal
Cook and freeze 1-2 portion meals-label-reheat as needed
Purchase pre-made meals that can be frozen

Exercise with Senior – Indoors or Outdoors
Walking
Biking
Swimming
Bowling
Golf range
Gardening
Pet Care
Daily walks
Changing litters
Replenishing food
Water
Grooming
Veterinary appointments
Senior outings –  A caregiver can accompany a senior to a variety of activities and events:
Dinning
Museums
Library
Movie
Theater
Ballet
Opera
Weddings
Funerals
Gala dinners
Festivals
Religious services
Scenic drive 
Resources to find private caregivers
Referrals from family and friends

Independent living centers, senior centers, religious congregations, or national health organizations (i.e. Alzheimer's Association)

Local College/University career offices, especially those with nursing or social work programs

Bank Trustees, Investment Bankers, and Notaries may also be good sources to turn to. Often times quality caregivers will reach out to professionals who may benefit from having this additional value to extend to their senior clients when home assistance is required.
As an employer you can post your caregiver job listing, or you can search the resumes and profiles of job seekers on many websites offering free postings for caregivers and families looking for caregivers.
Visit  caregiving advertising for more information on where to post your ad.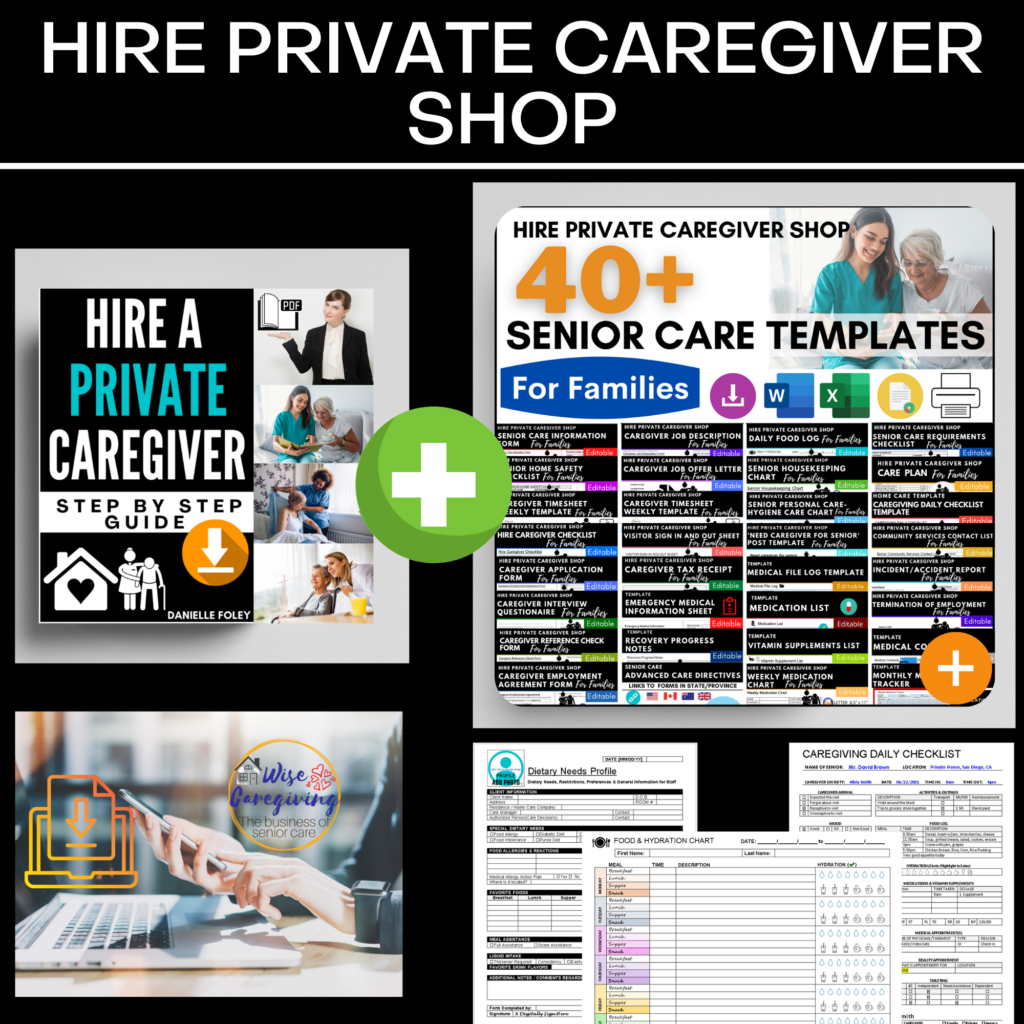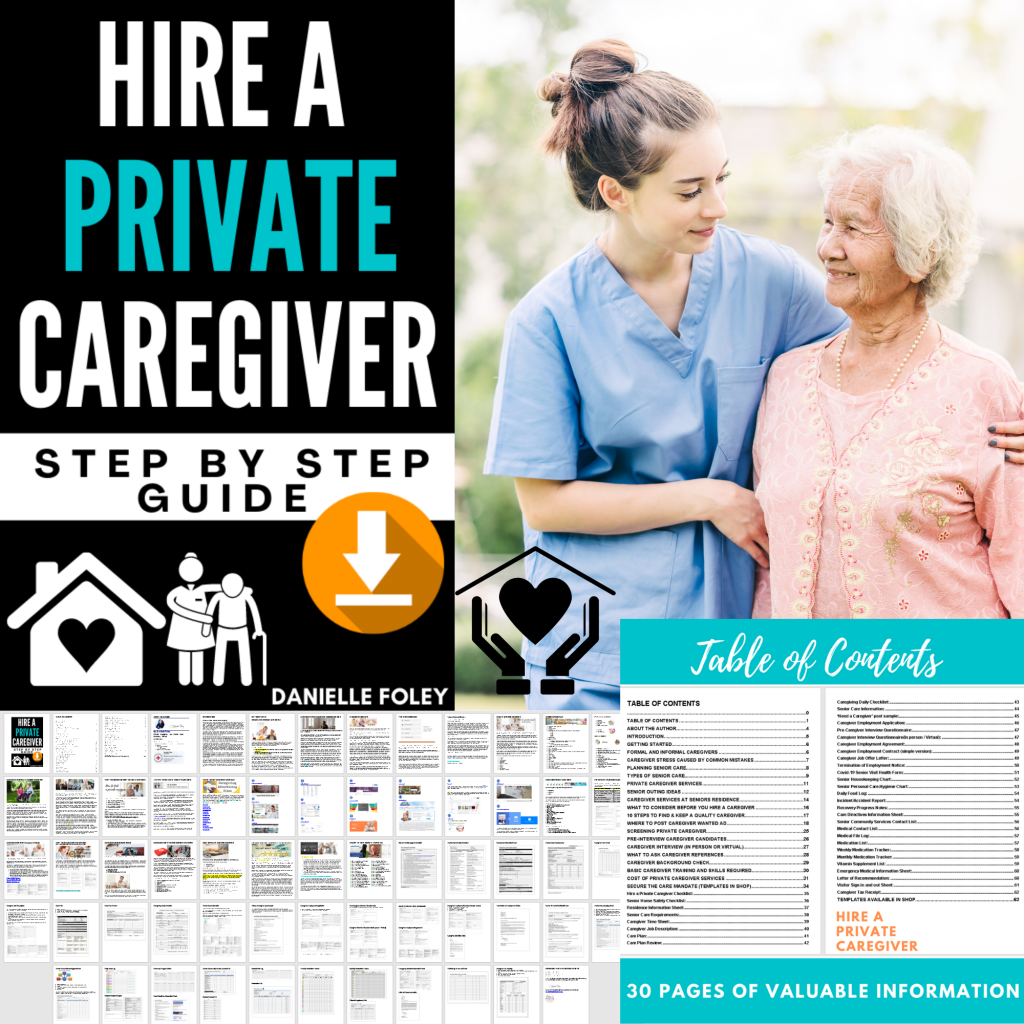 Home Care Templates (non-medical)
Hire a Private Caregiver Checklist
Home Safety Checklist
Residence Information Sheet
Senior Care Requirements Checklist
Caregiver Time Sheets
Caregiver Job Description
Care Plan
Care Plan Review
Dietary Profile Sheet
Caregiving Daily Checklist
Senior Care Information Form
'Need a Caregiver' Sample Post
Caregiver Employment Application
 Pre-Interview Caregiver Questionnaire
Full Caregiver Interview Questionnaire
Caregiver Reference Check-Call Script
Caregiver Employment Agreement
Caregiver Employment Contract
Caregiver Job Offer Letter
 Termination of Employment Letter
Covid-19 Visitor Health Form
Senior Housekeeping Chart
Senior Personal Care-Hygiene Chart
Daily Food Log
Incident/Accident Report
Recovery Progress Notes
Care Directives Information Sheet
Senior Community Services Contact List
Medical Contacts Sheet
Medical File Log
Medication List
Weekly Medication Trackers
Monthly Medication Tracker
Vitamin Supplement List
Emergency Medical Information
Letter of Recommendation
Visitor Sign in and out Sheet
Employee Letter of Recommendation
Toileting Charts
Visitor Sign in and out Sheet
Caregiver Tax Statement (yearly care costs -to have you or your caregiver fill out)
Senior Care Invoice (To give to your hired caregiver to use to keep care costs in order)