Prepare for your caregiver job interview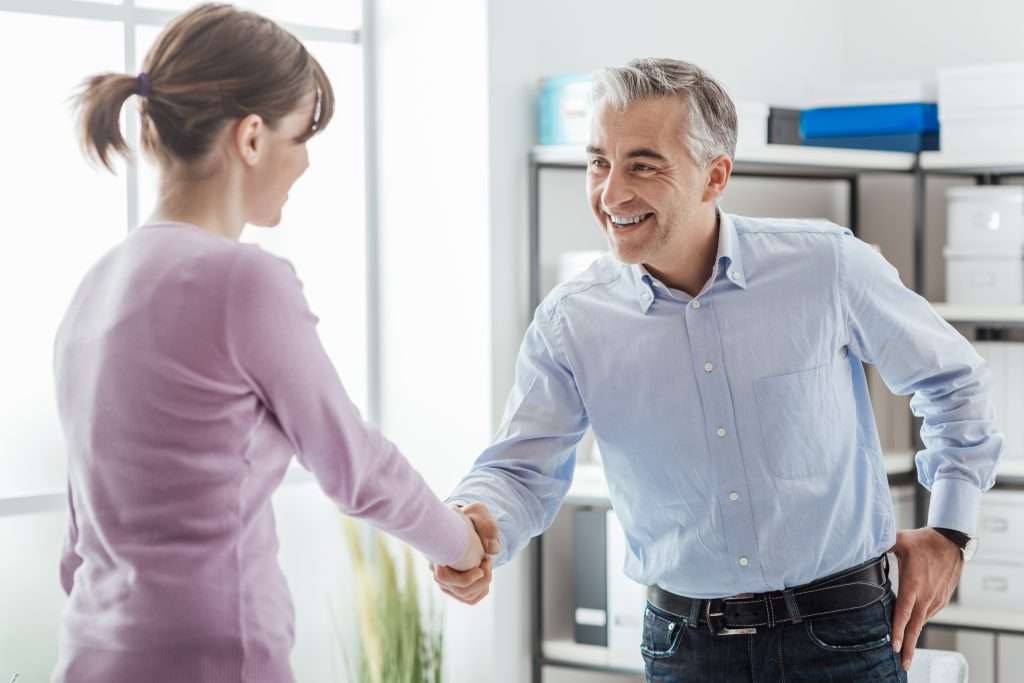 Present yourself well and just be yourself.
If your are heading into a caregiver job interview then you are a serious contender for the position. Family members who are looking for additional  private caregiver services will want to get to know who you are as a person and if you will in fact be a good match for their senior loved one(s).
A caregiver job interview has a tendency of being more personal than a standard interview.
The first meeting is crucial in terms of first impression, and to see if a future working relationship is possible.

You will need to get across to potential employer the advantages of dealing with one private caregiver over an agency, and that 'you' can also provide some of the same convenient caregiver services of a homecare agency. 

Prepare yourself for questions that you may be asked about your positive attributes, and how you could apply them to helping seniors.

Present yourself in business attire in person or virtually, even though the caregiver job itself will only require everyday clothing/scrubs. This will most certainly give you a competitive advantage among the caregiver candidates.
10 ways in order to ace the caregiver job interview

in

person or virtually
Be punctual

Presentable- professional attire

Smile- expresses warmth and compassion

Eye contact when speaking or being spoken to

Firm handshake-strength of Character 

Good manners-

https://www.wikihow.com/Have-Good-Manners

Listen carefully to what is being said and what is not.

Discuss what the primary needs of senior are

Find out what the most important needs of the family are

Wrap up-Show respect for family members/trustees time
If you arrive first in your agreed upon public place (security first), find the quietest and most private place available.
Due to Covid-19 you may be doing this interview over Skype. All the guidance and tips still apply for a virtual call.  This is your chance to show a family member, or person in charge of senior's care an idea into who you are on a personal level. Who doesn't like getting a glimpse into someone else's world. 


Select your FREE meeting platform (Zoom, Skype, Google Hangout) and do a test meeting with someone. With zoom you can do a test with yourself


It is very important that  your computer connection is stable

Check that your audio is working and that you do not get any feedback or echo sounds.

Test the connection before the call, and set up a simple, clean (uncluttered) background and then add some interest (color, plant, nice object etc.) for the viewer. A background can say a lot about a person so be mindful of that before your virtual call.

Set up the video chat at least 1 hour before. sometimes passwords get misplaced, and something as simple as a phone code not being found can really throw you off your game and affect your interview.

Be presentable and well groomed-same as though you are in person

Make sure you are on time
Start your caregiver job interview with a show of gratitude for the family members valuable time to meet with you. Make sure to have a notepad and pen, the family member will appreciate that the details matter to you. You can lead the conversation by opening up with "so we are here to discuss how hiring a caregiver for [name of /relation to senior] …"
The next step is the most important as the family member is opening up and trusting you with sensitive information. You must listen to what is said and not said; observe body language and tone to determine where your caregiver services can be most useful.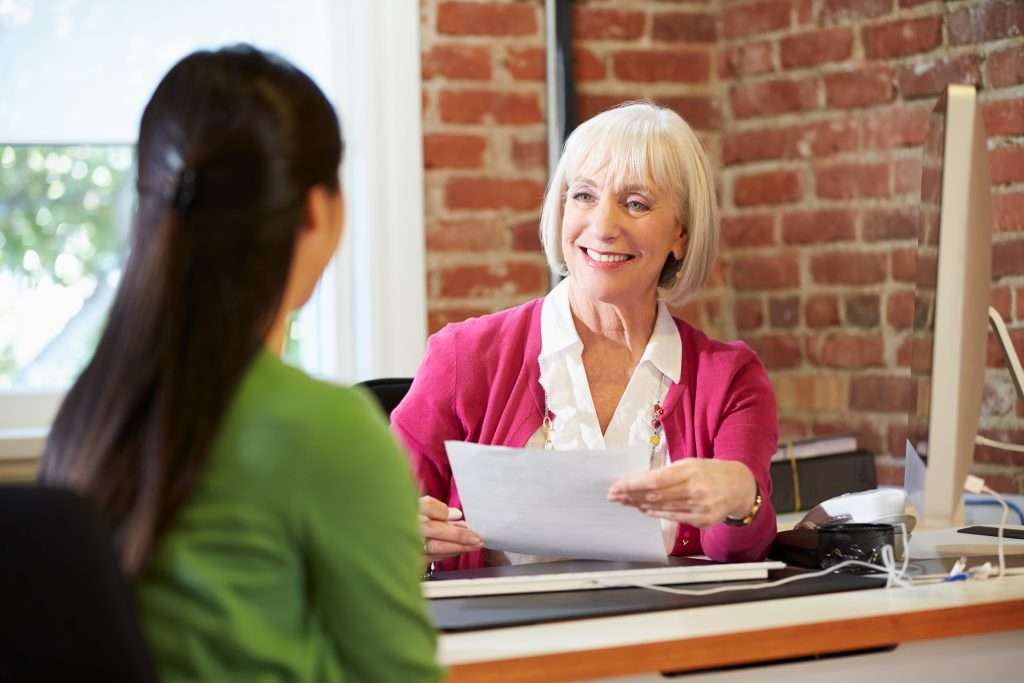 At this point in your caregiver job interview it is likely that the family member is leaning toward or against hiring you based on a few things; your initial communication skills over the internet and phone, first impression of you in person, your manners, and how you well you listened. They are closely observing how this caregiver job interview can be translated into how you will care for their senior loved one(s).
It is how the family member feels when they are with you during your caregiver job interview that is most important. You should keep your feeler detector on to make sure the family member is comfortable in your short time spent together. Think back to an interview where you could have improved the outcome of a conversation by using your instincts a bit better. If they feel off about something it should be your mission to determine what it is and get back on track. 
Your honesty, transparency and your willingness to answer all the questions asked are really valuable during this interview, it will help the family member with two things;
See if both you and the senior are a good match. If so, discuss the care needs of the senior(s).
Try to obtain a few details about the senior in your caregiver job interview such as;
Where the senior(s) grew up

Siblings

Spouse

Career

Interests/ Hobbies
Discussing your caregiver rate
Here is where the tricky part of the conversation that will come up, your asking hourly/weekly/monthly rate. This where you talk about your work related experience, abilities to preform, and the benefits you have to offer their senior loved one(s). Do not underestimate the importance of declaring your income in order to acquire the sought after clients. A really good selling point to families is that you will be providing invoice receipts, as well as a year end statement of account for your caregiver services. The year end statement may entitle the senior to tax credits or deductions for your non-medical home support services. Make sure to look up the details online in your location before you go into your caregiver job interview. If you forget you can always mention it in a follow up email.  Their is a lot of VALUE in being "on" the books.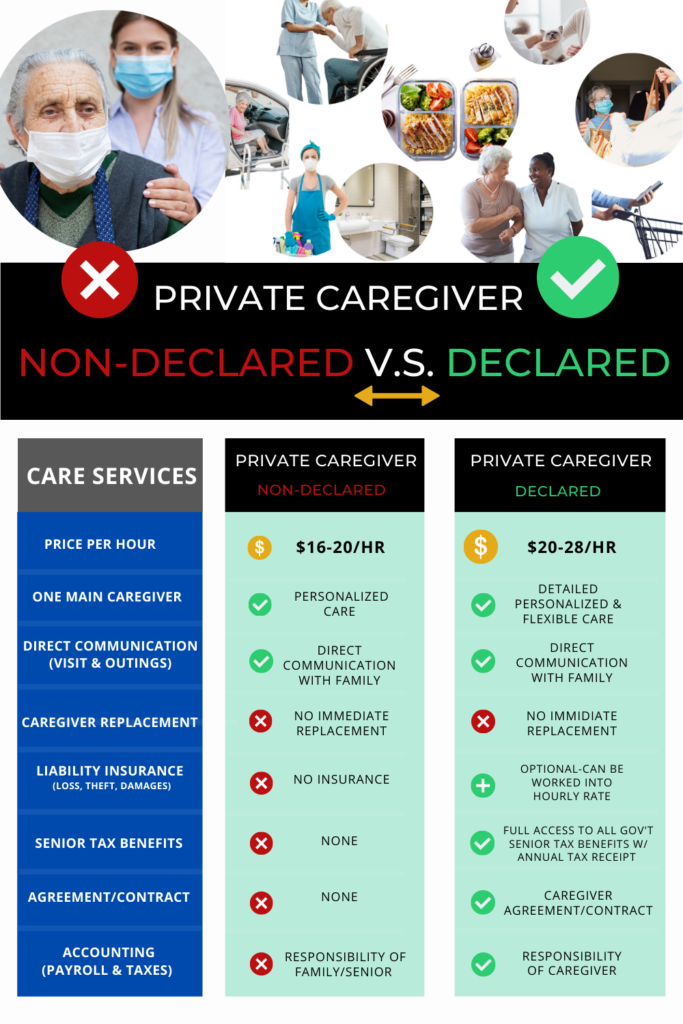 This guide will give you a good overview of what you need to start your own non-medical caregiving business for seniors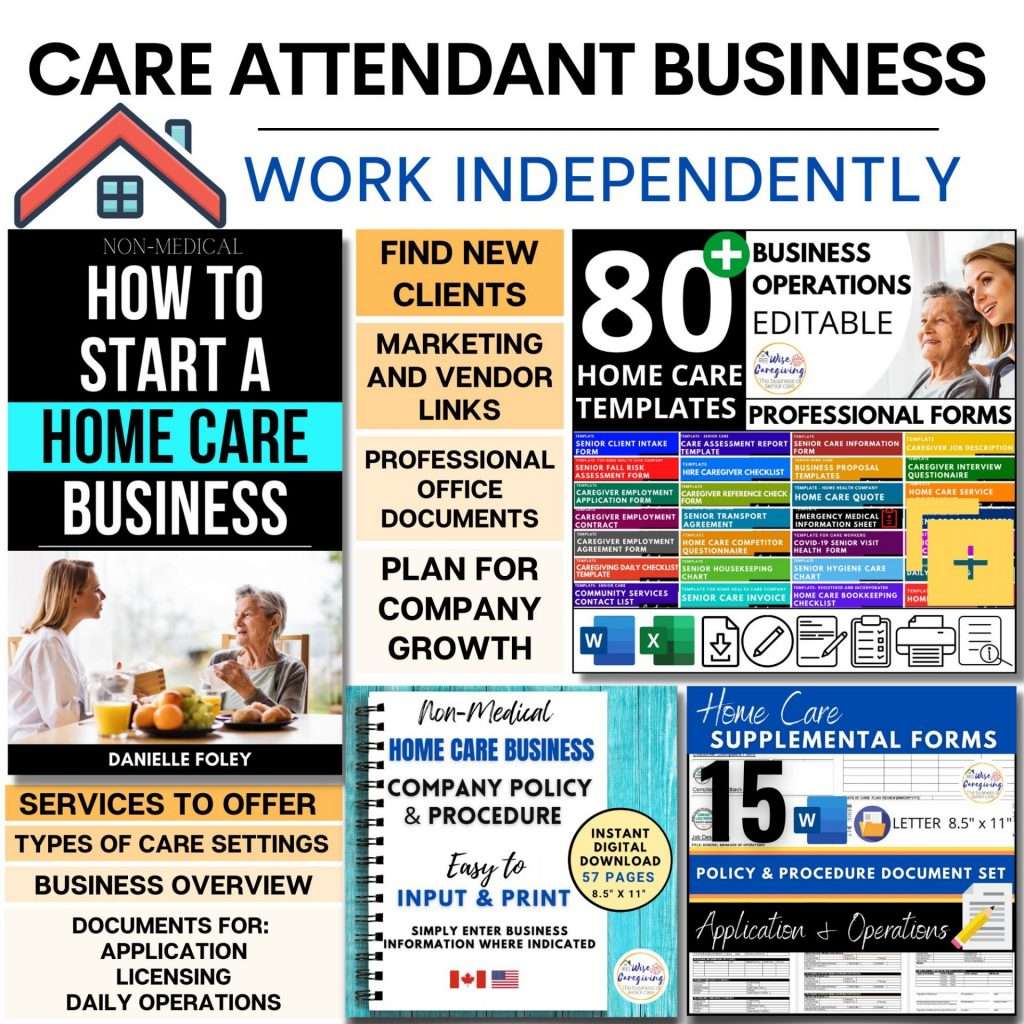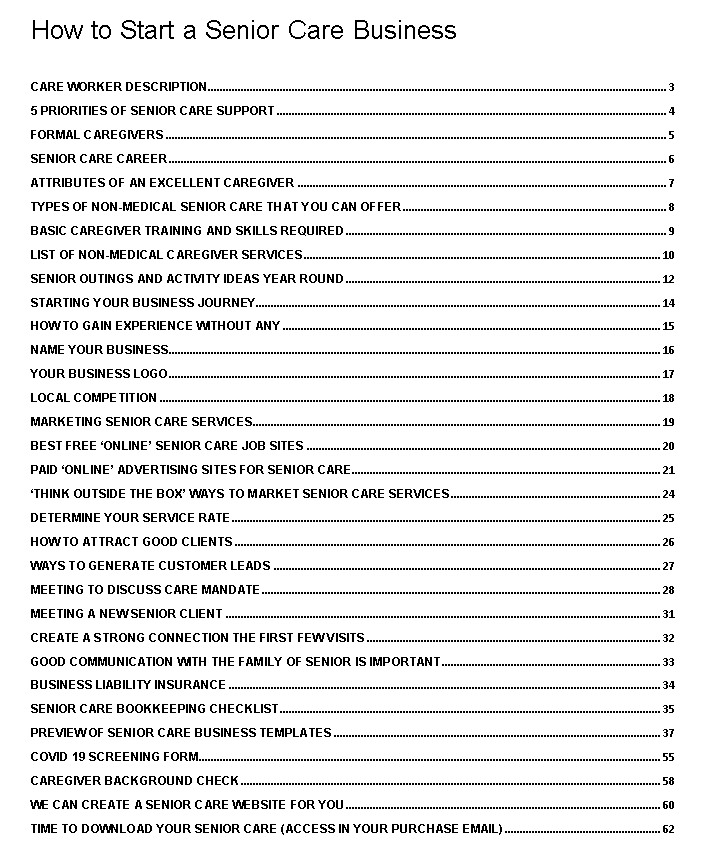 Caregiver Interview questions template included- see what questions you could be asked and practice your interview
Home Care Business Templates

Prepare to impress your clients with these professional senior care business forms!
Home Care Business Templates
80+ Home Care Business Templates for Daily Operations
Bundle 80 WORD & EXCEL DOCUMENTS

✔️ Home Care Phone Script
✔️ Home Care Follow up Letter
✔️ Home Care Call Record
✔️ Criminal Background Check
✔️ New Home Care Client Letter
✔️ Independent Contractor Agreement
✔️ Master Client List-Auto Calculates Total Clients
✔️ Client Intake Form-Non-Medical Home Care Business
✔️ Independent Caregiver Service and Fees Information Sheet
✔️ Home Care Agency Service and Fees Information Sheet
✔️ Home Care Rates-All Services Offered (2 Options)
✔️ Caregiver Job Description Form
✔️ Home Care Service Quote
✔️ Home Care Service Agreement (Terms of Service)
✔️ Transportation Agreement-Client Outings (Non-Medical)
✔️ Employee Non-Compete Agreement
✔️ Home Care Service Plan/Plan of Care
✔️ Care Plan Review Template
✔️ Home Care Invoice-*2 FORMATS, TAX RATES, TUTORIAL
✔️ Visitor Sign In & Out Sheet
✔️ Senior Profile Template w/Photo
✔️ Diet Profile Template
✔️ Personal Inventory Checklist (Home/Room in Care Facility)
✔️ Acute Care Assessment Report-One Sheet Quick Overview
✔️ Care Assessment Template (Detailed Care Requirements)
✔️ Home Safety Checklist-Home Overview
✔️ Fall Risk Assessment Form-Detailed Format
✔️ Residence Information Sheet (Quick Reference)
✔️ Proposal Letter-Home Care-For New Clients
✔️ Proposal Letter-Home Care-Organizations and Health Facilities
✔️ Competitor Call Script-Home Care Business
✔️ Caregiver Job Posting-Ad Template
✔️ Hire a Caregiver Checklist-Quick Guide
✔️ Caregiver Application Form Template
✔️ Pre-Interview Caregiver Questionnaire
✔️ Caregiver Interview Questionnaire
✔️ Caregiver Reference Check Questionnaire
✔️ Job Offer Letter-Home Care Employee
✔️ Job Acceptance Letter-Home Care Employee
✔️ Caregiver Employment Agreement-Long format
✔️ Caregiver Employment Contract-Short Format
✔️ Caregiver Profile Sheet (Quick Reference)
✔️ Time Sheet Weekly-Caregiver Employees
✔️ Caregiving Daily Checklist (Journal-Visit Log)
✔️ Housekeeping Chart/Checklist-Home Care
✔️ Personal Care Checklist-Home care
✔️ Toileting Chart (2 Layout Options)
✔️ Client Progress/Recovery Notes Template
✔️ Weekly Food Log-Meal & Hydration Tracker
✔️ Letter of Recommendation-Home Care Employee
✔️ COVID-19 Screening Form for Visitors
✔️ Proof of Income and Employment Letter
✔️ Final Employment Warning Letter-Caregiver
✔️ Termination of Employment Notice-Caregiver
✔️ Incident/Accident Report Form Template
✔️ Emergency Medical Information Template
✔️ Community Services Contact List (Routine Visits)
✔️ Care Directives-End of Life Wishes Form
✔️ Medical File Log-(2 Sizes-Letter + A4)
✔️ Medication List-(2 Sizes-Letter+ A5)
✔️ Weekly Medication Tracker
✔️ Monthly Medication Tracker
✔️ Medical Contacts List
✔️ Vitamin Supplement List
✔️ Service Price Increase Letter-Business Template
✔️ Home Care Tax Statement Template
✔️ Bookkeeping Checklist-Home Care Business
✔️ Activity Sheet Template-Monthly (3 Sizes)
✔️ Menu Template-Weekly (3 Sizes)
✔️ Home Care-Closure of Account
✔️ Personal Information Protection & Electronic Document Act
✔️ Termination of Home Care Services-Master Template
_____________

This template is great for:

⭐ Home Care Company/Agency
⭐ Senior Care Business
⭐ Personal Care Service/Attendant(PCA)
⭐ Elder Care Business
⭐ Private/Independent Caregivers
⭐ Private/Public Care Facility
⭐ Volunteer Group
⭐ Non-Profit Organization
_____________

How can these senior care templates help?

⭐ Document changes in physical and mental health
⭐ Assistance with client selection
⭐ Guidance with employee selection
⭐ Improve communication within care team
⭐ Accountability among staff
⭐ Quick access to company and client information
⭐ Administrative uniformity
⭐ Client intake assistance and guidance
⭐ Clarification of caregiver tasks
⭐ Set staff job expectations in writing
⭐ Simplify home care accounting
⭐ Cohesive branded look and feel
⭐ Avoid liabilities
_____________

Main Features of the product:

✔️ MICROSOFT WORD DOCUMENTS
✔️ EDITABLE
✔️ INSERT COMPANY LOGO/ ANY IMAGE (Instructions Included)
✔️ Easy to change page size
✔️ Simple to change any excel formula
✔️ Fill form digitally/manually
✔️ Ready to convert to fillable forms in Adobe
✔️ Send electronically!
✔️ Printable